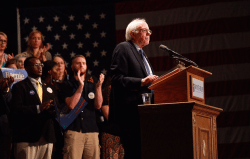 Latest CBS News 2016 Battleground Tracker poll has found Vermont Senator Bernie Sanders up 52% to 30% in New Hampshire and 43% to 33% in Iowa against Hillary Clinton. Even polling in South Carolina that has Clinton up 46% 23% should be troubling for the Democratic frontrunner as she was beating Sanders 54% to 9% among South Carolina Democrats in a recent Public Policy Polling, with Vice President Bernie Sanders garnering 24%.
Hillary Clinton's deficit among likely Democratic primary voters in New Hampshire has grown to more than 20 points, while her lead over Bernie Sanders among likely caucus voters in Iowa has been reversed, according to the first wave of the YouGov/CBS News 2016 Battleground Tracker. Clinton remains ahead in South Carolina, where Joe Biden also makes a strong showing.

The new poll finds Sen. Sanders with 52% support among Democratic primary voters in New Hampshire, while former Secretary of State Clinton, long considered the front-runner for the 2016 Democratic nomination, receives 30%. Recent polls have shown Sanders' lead growing in the Granite State, but this would be the first to show the Vermont Senator over 50%.

Possibly more worrying for the Clinton campaign is her performance in Iowa, where Sanders now leads by 10 points, with 43% to Clinton's 33%.
The CBS poll follows a trend that definitely shows Bernie Sanders with the momentum in the race for the Democratic nomination for president. Senator Sanders has aggressively criticized the Drug War and is expected to introduce legislation calling for the abolishment of private prisons and stated that he's willing to consider federal marijuana legalization. With months away from any votes being cast, Hillary Clinton has plenty of time to regroup, but she has to be concerned with the surge in support for Senator Sanders.