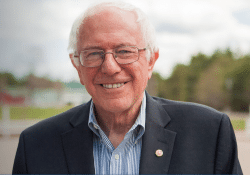 On the heels of the CNN poll showing that he is just 10 points behind Democratic frontrunner Hillary Clinton in nationally polls, a new Reuters poll has Vermont Senator Bernie Sanders just trailing by 8 points. This is an amazing shift in voter sentiment as Clinton has been handily beating Sanders in national polls, even as the anti-establishment candidate has made great strides in the early states of Iowa and New Hampshire. From Reuters:
Clinton leads Sanders nationally among Democrats by eight percentage points, 39 percent to 31 percent, her smallest cushion since the nominating battle began for the November 2016 election. She led Sanders by 20 percentage points in the online poll a week ago. (Reuters/Ipsos poll: bit.ly/1L6Tpwu)

Clinton's support among Democrats has steadily eroded for weeks amid questions about her use of a private email server while she was secretary of state. Her support was at 45 percent one week ago.

Clinton apologized for the email practice earlier this week, but the controversy has helped knock her support among Democrats to its lowest level since Reuters/Ipsos began polling on the 2016 election almost three years ago
First, the conventional wisdom was that Bernie Sanders didn't stand any chance against Hillary Clinton. As the Vermont Senator surged ahead in New Hampshire and then in Iowa, the conventional wisdom was that he was trailing so big nationally, that those two early state victories couldn't be matched elsewhere. It will be very interesting to see how the media reacts to these two latest national polls and how things will shake out if more polls show similar gains for Sanders. By all indications, Democratic primary voters have liked Bernie Sanders the more that they get to know him and as his national stature increases, more voters will get more familiar with him, his history and his platform.
It will be very interesting to see for sure, especially after Sanders announces more concrete agenda items, such as his bill to abolish private prisons. Many marijuana law reformers have also predicted that a federal legalization or decriminalization bill may be unveiled by the Sanders' campaign as well.
The 2016 election is just underway, but it has already had many unexpected developments. Stay tuned to Marijuana Politics as we will continue to break down this pivotal presidential race for the cannabis community.