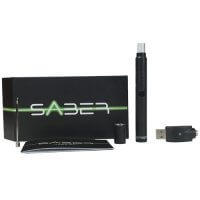 Dabbing has taken off in the last year in states where it is legal and is available at most dispensaries. We wanted to see what all the hype was about so we tested some Live Resin, THC crystal powder, shatter and whatever else we could find to see for ourselves.
Most dabbing materials seem to be either processed with Butane (BHO) or C02, which is considered 'cleaner.' My local Budtenders were not very helpful in directing me to any CO2 concentrates as most were just selling the BHO.
Basically to 'dab' you are vaporizing concentrated marijuana on a 'nail' that heats up the processed weed.
Many a Budtender have gotten quite creative by combining these concentrates similarly, as is done with some of those primo mixed joints laced with hash oil and crystals.
It was interesting how the high differs when experimenting combining the different hash like, crystallized or shatters materials.
We used a Saber Vape Pen and I was pleasantly surprised that the heating element delivered such a nice smooth inhale for such a small, portable unit, about the size of a sharpie. A full review can be seen here. With 3 levels of heat, I was able to arrive at the smoothest and least wasteful hits based on what I was testing.
Some are stronger than others, some more cerebral and some more of a body high. The wild world of cannabis concentrates is alive and well and there for your perusal.