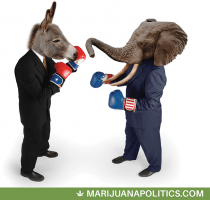 UPDATE: A new Reuters poll shows that the CNN survey is not an outlier, as Reuters has Sanders within single digits.
The conventional wisdom was that the the Hillary Clinton campaign machine would steam roll Bernie Sanders and any other Democratic presidential candidate in her path. Pundits thought, and some still do, that Bernie Sanders simply didn't stand a chance, let alone a late-arriving Joe Biden, as Secretary Clinton's name recognition, national standing and campaign war chest would prove too formidable for any insurgent challenger. However, recent polls have stunned even Senator Sanders himself, who says that the Clinton campaign must be nervous.
Even as Bernie Sanders surged ahead in both Iowa and New Hampshire, political pundits would point to national polls showing Clinton with huge leads among registered Democratic voters. Fortunately, for cannabis law reform advocates and Drug War reformers, Senator Sanders has even surged nationally, according to the latest CNN poll:
Hillary Clinton's lead in the race for the Democratic nomination has fallen to just 10 points, and at the same time, her advantage in hypothetical general election matchups against the top Republican contenders has vanished, a new CNN/ORC poll has found.
The new poll finds Clinton with 37% support among Democratic and Democratic-leaning voters, down 10 points since August, followed by Vermont Sen. Bernie Sanders at 27% and Vice President Joe Biden at 20%. Sanders' support is about the same as it was in August, making Biden the only candidate to post significant gains in the last month. His support is up 6 points in the last month as he weighs making a run for the presidency.
While overall the poll is good news for the anti-establishment campaign of Sanders and drug law reform activists who support a candidate that is willing to consider federal marijuana legalization and is proposing the abolishment of private prisons, not all of the news is great. For Sanders, 30% of registered Democrats would be unsatisfied with his nomination. For Drug War reformers, the unsettling news could be the increased likelihood that Joe Biden, who has been a supporter of the War on Drugs, will become the next occupant of the White House as Vice-President Biden matches up very well against Republican challengers (who have also gained or even surged past Secretary Clinton):
With Biden's consideration of a run for the White House gaining attention, the poll finds he outperforms Clinton in these hypothetical general election matchups, topping Bush and Trump while falling just slightly behind Carson. Biden tops Trump by 10 points (54% to 44% among registered voters), leads Bush by 8 points (52% to 44%) and is 3 points behind Carson (50% Carson to 47% Biden). Biden's advantages against Bush and Trump rest on the same kind of gender gap that Clinton appears to have lost: Biden leads Bush by 16 points among women while tying him among men, he tops Trump by 26 points among women while trailing him by 7 among men, and he leads Carson by 5 among women while trailing by 10 among men.
The latest poll numbers, despite not being perfect, certainly add to the momentum to the Bernie Sanders campaign and the progressive activists that support him across the country. The 30% or so of Democrats that would be upset currently by the nomination of Bernie Sanders may not know him or his platform very well as most voters really aren't paying much attention to the presidential race at the moment. In Iowa and New Hampshire, two states with some very engaged voters, Democratic voters have grown to favor Bernie Sanders the more that they get to know him, his history and his agenda.
While Joe Biden's polling numbers have also increased, he will get more scrutiny if he enters the race and there is a good chance that Biden and Clinton share the same establishment voters, providing Sanders' progressive base an increased chance of carrying the Vermont insurgent candidate to victory. Granted, these polling numbers are way to early to be definitive by any means, as the 2016 election is just now getting started, but it is a great sign for Drug War reformers that a candidate with sensible views on criminal justice reform is doing so well against Democratic heavyweights.