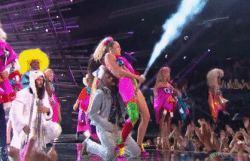 MTV's Video Music Awards aired last night and right now your Facebook, Twitter, and Instagram feeds are doubtlessly blowing up with photos of host Miley Cyrus and all of her wacky antics. From a nipple slip and frantic wardrobe changes to public disses from Nicki Minaj, along with the announcement of a new, free concept album produced by Wayne Coyne of The Flaming Lips, there's enough Miley-generated content to feed the pop culture news cycle for the entire week, and quite possibly through the end of summer. And let's face it: A lot of that conversation is going to be about cannabis.
It's no secret that many–if not most–of the artists celebrated at MTV's VMAs are fans of marijuana. Snoop Dogg, Lady Gaga, Madonna, and Pharrell Williams are just a few of the pot consumers and advocates who have performed and won awards at the annual event. This year was no different as 420-friendly artists A$AP Rocky, Bruno Mars, Nicki Minaj, Justin Bieber, The Weeknd, and Beyoncé graced the stage with performances and racked up awards.
Cyrus, however, was extremely vocal about her love for the plant (to the point that some are saying it was too much). Watching the show, one would have been forgiven for thinking that "VMA" actually stood for "Video Marijuana Awards." In addition to an Ellen Degeneres-inspired selfie moment during which Cyrus encouraged the participants to say "marijuana" instead of "cheese," the pop star participated in a skit with Snoop Dogg featuring edibles, smoked up with Tyga, and referenced drugs about a million times (Slate put together a fun video featuring all of her 2015 VMA drug references-we've embedded it at the bottom of this article). The biggest Miley-Marijuana conversation-sparker, though, will center around the performance of Dooo It, the first single off of that Wayne Coyne collaboration, Miley Cyrus & Her Dead Petz. Backed by The Flaming Lips and accompanied by about a dozen of Rupaul's drag queens, Cyrus took to the stage to perform the track live, cannabis-celebrating lyrics and all: "Yeah I smoke pot, yeah I love peace. But I don't give a fuck–I ain't no hippy." The performance culminated with phallic bongs ejaculating fog and confetti into the air. Check it out:
Kanye West was also surprisingly open about his marijuana use during an epic, rambling, very Kanye-esque acceptance speech when he was given MTV's highest honor, The Vanguard Award. After riffing about the importance of art being challenging to the masses, and just before announcing a potential 2020 presidential run, the rapper–who hasn't been as vocal about his own marijuana use as many of his peers–said, "Y'all might be thinking right now 'I wonder did he smoke something before he came out here?' The answer is yes. I rolled up a little something. I knocked the edge off." The crowd went wild. You can see it here (it starts right about 7:35 in):
A pseudo-subterranean staple of pop culture for years, cannabis use is no longer something simply hinted at or talked about in code. Last night provided strong evidence that the plant has, as VMA-winner Drake would say, "made it." With poll after poll showing majority support for full legalization, it's time for government and laws to catch up with the rest of the country and make this thing official.
Here's that Slate video we promised you: