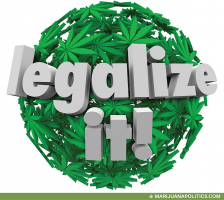 This blog originally appeared on www.lift.co. You can see Jamie moderate a panel of legal experts at the upcoming International Cannabis Business Conference, October 13-14.
Legalization is on the way in Canada. The government appointed task force is holding consultations from coast to coast, but one thing was missing. Epic road trips require epic playlists. so here's one for the hard travelling members of Canada's legalization task force.
Legalize It – Peter Tosh (1976)
Obviously, this is what you're doing. Just a reminder. Be proud.
Choice Lyric "Doctors smoke it, Nurses smoke it, Judges smoke it, even lawyer too."
Pass the Kouchie – The Mighty Diamonds (1981)
You may know the Musical Youth's version of this song recorded a year later, where kouchie became dutchie, and drug references were removed. Either way, if you want to pass a law about smoking, this should be it: "pass it to the left."
Choice Lyric "How does it feel when ya got no herb?"
That'll do it – Anointed (2001)
This Contemporary Christian duo were probably not actually singing about cannabis, but about faith. You hold a lot of that in your hands right now. Okay, that's not why I included it. I just didn't want y'all to forget about concentrates.
Choice Lyric "A little dab'll do ya, get you through it, that'll do it."
I Get Lifted – KC and the Sunshine Band (1975)
This cover of a George McCrae song is included because sometimes it's good to turn your brain off a bit, and just groove. (Also, a nod to the original publishers of this article can't hurt right?)
Choice Lyric "You got the match, that lights the fire, I get lifted, up hi-gh, hi-gh."
Reefer Man – Cab Calloway (1932)
This song was recorded near the beginning of Henry Anslinger's campaign against cannabis, which had already become illegal in 29 US States. It would be recorded by four other popular orchestra's that same year. While this song is obviously about the 'reefer man', the other overarching message of the song seems to be about cannabis not mixing well with monopoly…
Choice lyric "If he gets the mania, he'll give you Pennsylvania."
One Draw – Rita Marley (1981)
While it may sound fun to get high, remember that that's not all your legalizing. Banned in the United Kingdom, and released the same year her husband Bob died from cancer, this song's history highlights the hypocrisy of the drug war. The power this plant has to transform our country is limited only by the regulations YOU propose.
Choice Lyric "Hey Rastaman, hey what you say, Give mi some of yu sense."
Police in Helicopter – John Holt (1983)
Let this remind you of all the money and resources that can be put towards real crime if you get this right.
Choice Lyric "We don't trouble your banana, we don't trouble your corn, we don't trouble your pimento, we don't trouble you at all."
If You're a Viper – Fats Waller (1943)
This song is a treasure trove of cannabis culture history, from the slang and trivia in the lyrics, to the artists who performed it. Originally performed in 1936, this Fats Wallers version was recorded in a response to Henry Anslinger's WWII call for the arrest of swing musicians. Fats was recording a session for distribution to the troops, and included this number, though there is some controversy over wether or not it actually aired on armed forces radio or not.
Choice Lyric "I dreamed about a reefer five feet long."
Peer Pressure – De La Soul (2001)
I suggest listening to this when reading anything submitted by Smart Approaches to Marijuana Canada. (And for you Cypress Hill fans wondering why they aren't on the list, B-Real contributes on vocals).
Choice Lyric: "Let me say something: Just started smokin' (Please don't smoke too much), But uh to all my smokers (Smoke it up)"
The Joker – Steve Miller Band (1973)
Overplayed, sure, but I think one or two of you can get with this. (I'm looking at you George Chow)
Choice Lyric "I'm a joker, I'm a smoker, I'm a mid-night toker."
Roll Another Number (For The Road) – Neil Young (1975)
A nice, simple traveling song, about something that may help on your journey…
Choice Lyric "Think I'll roll another number for the road, I feel able to get under any load."
Rainy Day Women #12 & #35 – Bob Dylan (1966)
Some have interpreted this song as being about a bible story(?!), however Time magazine dug up the truth: 'a rainy day woman is a marijuana cigarette'. Banned from British and American radio, this song has answers for you.
Choice Lyric "Everybody must get stoned."
Sweet Leaf – Black Sabbath (1971)
'Cause one of you has to be an old school metal head. (My money's on Susan Boyd).
Choice Lyric "Straight people don't know, what you're about, they put you down and shut you out, you gave to me a new belief, and soon the world will love you sweet leaf."
Let's Go Get Stoned – Ray Charles (1966)
Unlike the Bob Dylan song, this one does have a church connection…sort of. Originally recorded by The Coasters, it was written by the duo Ashford and Simpson, who met in church. This version was a #1 R&B hit in America.
Choice Lyric "When you work so hard all the day long, and everything you do seems to go wrong, just drop by my place on your way home. Let's go get stoned."
(That should be considered an open invitation btw)
The Alphabet Song (Have a Marijuana) (1968) – David Peel and the Lower East Side
Hard to choose only one from this album, with tracks like 'Show me the way to get stoned' 'I've got some grass', and 'I like marijuana', but we'll go with the title track here.
Choice Lyric "Smoke pot, smoke pot, everybody smoke pot."
Still Blazing – Wiz Khalifa (2010)
Mostly I like that the album is called Kush x Orange Juice. Instead of Gin and juice…get it…?
Choice Lyric "Just give me a quiet place to roll my weed."
Mary Jane – Rick James (1977)
It's Rick James.
Choice Lyric "She makes me feel alright. She makes my heart sing."
How to Roll a Blunt – Redman (1992)
Like it or not, ya'll are G's now, and G's need to know how to roll a blunt. (Okay, I actually don't like mixing tobacco and cannabis, but this is solid advice for joints too..)
Choice Lyric "Spread the ism around until the ism reach each end, Take your finger and your thumb from tip to tip, Roll it in a motion then the top piece you lick."
You Don't Know How it Feels – Tom Petty (1994)
This song was censored by MTV and some radio stations so that the word 'roll' was blanked out. Oh nineties… Suggested listening time: When the consultees are going on and on and on, and you have another city to get to.
Choice Lyric "So let's get to the point, let's roll another joint, And let's head on down the road."
Got to Get You Into My Life – The Beatles (1966)
I know right? But according to Paul McCartney this song was 'an ode to pot'. Even the Beatles weren't safe from prohibition, with Paul being arrested in Japan for possession of cannabis.
Choice Lyric "I was alone, I took a ride, I didn't know what I would find there, Another road where maybe I could see another kind of mind there."
Cheeba Cheeba – Tone Loc (1989)
Perhaps this can form the basis of a public education campaign about the munchies?
Choice Lyric "At tha Hagan Daas or Kelloggs Pop Tarts, Big bags of chips, gallons of dips
It took me weeks to get tha taste of my lips, I ate so much miserable is how I felt."
Mary Jane – Janis Joplin (1965)
This live recording wasn't released until 1975. Janis Joplin. 'Nuff said.
Choice Lyric "When I bring home my hard-earned pay, I spend my money all on Mary Jane."
Misty Mountain Hop – Led Zepplin (1971)
Robert Page protests the events of July 7, 1968, where police made arrests for marijuana possession at a "Legalise Pot Rally" in Hyde Park, London.
Choice Lyric "Well you know, they asked us to stay for tea and have some fun."
Mr Farmer – The Seeds (1967)
This garage band single was banned in the US.
Choice Lyric "Mr. Farmer let me watch your crops, Mr. Farmer let me water your crops, Mr. Farmer let me harvest your crops, I want to have a dream come true."
Mexico – Jefferson Airplane (1970)
Despite Richard Nixon asking American media to not play this song, only a few states banned it. The rest got to hear about 'King Richard', his small headedness, and the terrible toll his drug war was exacting on Mexico. This song can not be done justice with a single quote, but when ever you hear anyone bring up international treaties, just put your headphones in and give a listen to this:
Choice Lyric "How long must that damn race, wait for the jailer's time to end?"
New Americana – Halsey (2015)
Just a reminder of that some of our American cousins are ahead of us.
Choice Lyric "We are the new Americana (ah, ah, ah), High on legal marijuana (sky high)."
One Toke Over the Line – Brewer and Shipley (1970)
Okay, confession: this actually kinda hurts my ears, but the fact that they played this on the Lawrence Welk show makes me smile. And it's a nice reminder of where people used to buy cannabis.
Choice Lyric "Don't you know I'm just waitin' for the train that goes home sweet Mary, hopin' that the train is on time. Sittin' downtown in a railway station, one toke over the line."
Smokin' – Boston (1976)
If you don't like the original, Anthrax also covered it.
Choice Lyric "Smokin', Smokin', We're cookin' tonight, just keep on tokin'"
Underwear Goes Inside the Pants – Lazyboy (2004)
This musical project combined spoken word with hip-hop beats. This track featured comedian Greg Giraldo.
Choice Lyric "We're dedicating all our medical resources to keeping the old guys erect,
but we're putting people in jail for something that grows in the dirt?"
Weed Smoker's Dream – Harlem Hamfats (1936)
If it sounds familiar to you, it's because while originally recorded with this title, it would later be rewritten to the classic Why Don't You Do Right. So, why don't you?
Choice Lyric… erm, actually, ignore the lyrics…just uh, you know, dig that horn.
Because I Got High (Positive Remix) – Afroman (2014)
In support of States' legalization initiatives, Afroman's remixed 2001 anthem highlights the new reality of cannabis in legal states, building schools, and getting healthy, who knew?
Choice Lyric "I had problems with glaucoma, but then I got high. Smelled the cannabis aroma, and I got high, glaucoma's getting better and I know why, because I got high, because I got high, because I got high."
Let the Good Times Roll – The Cars (1978)
Oh sure, your under orders not to turn this into a blaze fest, but let me stress again, this plant has the power to transform almost every aspect of our society, from our recreational activities, to our business ones, from medical research to construction materials and nutrition. When you make recommendations on the regulation of Cannabis is Canada…
Choice Lyric: "Won't you let the good times roll?"
Jamie Shaw is a former President of the Canadian Association of Medical Cannabis Dispensaries, a former Director of the BC Compassion Club Society, and co-founder of the first Canadian chapter of Women Grow. She currently consults for dispensaries, serves as Community Engagement Manager at Lift Resource Centres, and is very much looking forward to moderating a panel of Canadian legal experts on these topics at the upcoming International Cannabis Business Conference in Vancouver this October 13th to 14th.