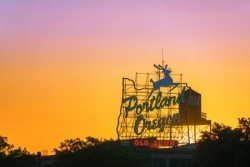 July 1 is rapidly approaching. The long-awaited day brings with it the promise of legal marijuana in the state of Oregon for all adults, even the healthy ones!
But where are you going to get that marijuana in Oregon? Our pot stores won't be open for months, maybe even over a year. What good is it to free the weed if you can't buy any?
Don't despair, dear reader, for Portland NORML is celebrating Free the Weed Day with free weed for YOU!
On Saturday, June 27 at Noon, Portland NORML will hold our regularly-scheduled free Public Meeting at the Tony Starlight Showroom at 1120 SE Madison St in Portland. Dru West, expert cannabis horticulturalist and author of the best-selling "Secrets of the West Coast Masters", will present a class on starting one's first legal four-plant cannabis garden.
So you can know what exactly is and isn't legal, I'll be delivering a presentation on the latest updates to Oregon's marijuana law, including the latest amendments to the House Bill 3400 that will shape much of the regulations in cannabis commerce.
Then on Tuesday night, June 30 at 11:30pm, Portland NORML will join other activist groups that are planning a celebratory photo opportunity on the west side of the Burnside Bridge with the iconic "Portland Oregon" sign in the background. At the moment of midnight, as marijuana becomes legal, activists from Porkchop's Projects (a veterans' service organization) and Stoney Girl Gardens (a medical marijuana provider) will give any adult with identification some free cannabis seeds and some usable marijuana from within an enclosed tent, hidden from public view as required by the new law.
Why spend your money in Vancouver, Washington, and break federal law bringing marijuana over the border, or resort to the Oregon black market? Portland NORML will educate the public and our partners will give away thousands of seeds and hundreds of pounds of marijuana this year so Washington State and the black market do not benefit from our new marijuana legality. Get your free weed in Oregon and become a self-sufficient cannabis consumer.