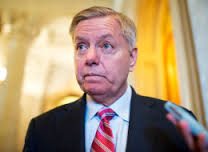 South Carolina chicken hawk Lindsey Graham, left, and eleven other senators just voted against the rights of traumatized American veterans to hear of perhaps the best treatment option for PTSD. They voted NO on the Veterans Equal Access Amendment.
But the good news is, even with the disloyal-to-the-troops votes of these treacherous twelve, for the first time a Senate committee (Appropriations) voted in favor of marijuana law reform! As this motion moves through congress, medical care providers for veterans may soon have their gag order removed and may well gain the freedom of speech to tell their patients about the therapeutic effects cannabis can provide for PTSD and other wartime injuries.
The vote actually reverses asinine congressional legislation passed in 2009 (while Americans were being wounded in two wars) forbidding veterans, even those living in states that had legalized medical cannabis, from asking about or hearing about this effective treatment for PTSD, pain, and other wounds of war. Even now, incredibly, VA physicians themselves are denied the right to even discuss with their wounded warrior patients medical marijuana as a treatment option. How ironic that those supposedly fighting for American freedom are denied the basic freedom of choice regarding their own health.
Medical freedom is denied to both the veterans and their physicians by vindictive bureaucrats. This tyrannical policy:
Forces vets to use far stronger, far more dangerous drugs. Cannabis also synergizes with other, more dangerous pain relievers, allowing for smaller dosages of hazardous opiate and pharmaceutical pain medications.
Tramples the right of free speech of physicians working for the VA. Doctors are required to first, do no harm. The VA demands they do harm by silencing recommendations to veterans for the best and safest medication for many ails.
Betrays veterans by withholding of safe and effective treatment options to its loyal citizen veterans.
To the shame of the GOP, the twelve senators that voted to continue denying wounded veterans possible life-saving information about their PTSD are all Republicans. They are:

Cochran, Thad (MS) – NO

McConnell, Mitch (KY) – NO, by proxy. Mitch has been good on hemp, but here he backhands veterans.

Shelby, Richard C. (AL) – NO, by proxy

Collins, Susan M. (ME) – NO

Graham, Lindsey (SC) – NO. Pictured above, the biggest neo-con chicken hawk of the bunch, shafting the veterans he sent to multiple wars.

Kirk, Mark (IL) – NO

Blunt, Roy (MO) – NO, by proxy

Moran, Jerry (KS) – NO

Hoeven, John (ND) – NO, by proxy

Boozman, John (AR) – NO, by proxy

Capito, Shelley Moore (WV) – NO

Lankford, James (OK) – NO

Four Republicans refuted their party and instead supported American veterans in passing this historic legislation. They are:
Daines, Steve (MT) This Montana senator co-sponsored the bill! Cheers to Montana Senator Steve Daines!

Co-sponsor Senator Steve Daines R-MT




Murkowski, Lisa (AK)

Alexander, Lamar (TN) This is somewhat a surprise vote for a fossilized drug warrior.

Cassidy, Bill (LA)

All the committee's Democrats voted for the bill extending to veterans the same medical rights of other American citizens in states with cannabis medical liberty!

Mikulski, Barbara A. (MD) – YES

Leahy, Patrick J. (VT) – YES, by proxy

Murray, Patty (WA) – YES, by proxy

Feinstein, Dianne (CA) – YES! Ardent drug warrior California democratic senator Dianne Feinstein made one of the few compassionate and rational votes in her all-too-long long career. Her legacy is tarnished by her knee-jerk support of the war-on-drugs, (and all other wars too). This ultimate drug war dinosaur finally cast a good vote.

Durbin, Richard J. (IL) – YES

Reed, Jack (RI) – YES, by proxy

Tester, Jon (MT) – YES

Udall, Tom (NM) – YES

Shaheen, Jeanne (NH) – YES, by proxy

Merkley, Jeff (OR) – YES, Cosponsor! Way to go, Senator Merkley!

Coons, Christopher A. (DE) – YES, by proxy

Schatz, Brian (HI) – YES

Baldwin, Tammy (WI) – YES


Murphy, Christopher (CT) – YES
The final result was 18 YES over 12 NO! Victory for American veterans, medical cannabis, and freedom of speech.