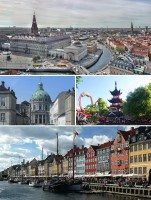 The Danish National Institute of Public Health has released new figures showing that high school students are rejecting alcohol and hard drugs in favor of marijuana.
Over the past two decades, marijuana use among male high school students has almost doubled and use among female high school students has increased by half. In 1996, about one-in-four male teenage Danes (26 percent) had tried marijuana and about one-in-five female teenage Danes (19 percent) had tried marijuana. Today, half of all males (50 percent) and almost one-third of all females (31 percent) have tried marijuana.
Among the Danish teens, about one-in-eight (12 percent) report using marijuana in the past month. Over one-in-five males say they've used marijuana at least ten times. Overall, among all Danes of any age, over one-third (35.6 percent) say they have tried marijuana. That's the greatest rate of marijuana experience among the entire European Union, even besting the famously cannabis-tolerant Dutch with their legal cannabis coffee shops.
For the sake of comparison, the Monitoring the Future (MTF) survey of US 12th graders shows that half of teens of both sexes have tried marijuana, a figure that's shown a decline since the 2000 high of 57 percent. However, current monthly use is greater in America, at over one-in-five (21.2 percent).
While marijuana use among the youth has increased in Denmark, their drinking rates have shown a decline. The final figures haven't been released yet, but project leader Pernille Bendtsen told Danish broadcasting that "There are a little bit fewer who drink often while there are more who have tried smoking cannabis. Therefore you could say that there has been a shift in the use of drugs and alcohol."
Among US teens, drinking is also on a downward trend. For US 12th graders according to MTF, three-quarters were drinking monthly in the early 1980s. That dropped to half by the late 1990s and now, monthly drinking among high school seniors is below two-in-five (40 percent) for the first time ever. Binge drinking (five or more in a row) has also dropped by half, from over 40 percent in the 1980s to under 20 percent now.
The figures for use of drugs other than marijuana by Danish youth have shown a recent drastic decline. About one-in-twenty-five Danes aged 16-24 (3.9 percent) had used a drug other than marijuana in the past year, down by more than half since just 2008.
In the US, according to the annual National Survey on Drug Use & Health, about one-in-six Americans aged 16-25 (16.2 percent) have used a drug other than marijuana in the past year. That's down from 18.4 percent from 2008, and from a full one-quarter (25 percent) since 1982.
In other words, despite the great differences in these two countries, over time young people have shifted their drug choices from alcohol and hard drugs to marijuana. It's almost as if they realize it's a far safer alternative. We'd prefer minors not use any drugs, but if they're going to, at least they're increasingly choosing the one that cannot kill them.