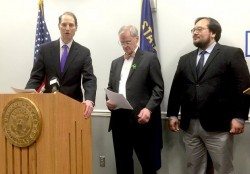 The Senate Appropriations Bill passed a key piece of marijuana legislation today that allows Washington, D.C., to license and regulate cannabis commerce and to allow banks to offer financial services to regulated marijuana businesses. The Financial Services Bill adopted by the U.S. Senate committee deletes previously approved language that prevented our nation's capitol from regulating marijuana sales, even after more than 70% of District voters passed a legalization measure last November. Additionally, the committee approved an amendment sponsored by Oregon's Jeff Merkley and Washington State's Patty Murray that will allow banks to offer financial services to cannabis businesses located in areas where marijuana is legal.
It is great to see progress at the federal level as elected officials are finally catching up with the people. It was nonsensical and petty to prohibit Washington, D.C., from licensing, regulating and taxing marijuana when all adults can legally possess marijuana and cultivate cannabis plants. Denying banking services to regulated marijuana businesses has been a terrible policy as forcing marijuana businesses to be all-cash operations is a safety hazard and creates more opportunities for tax evasions.
Oregon United States Senator Ron Wyden, a well-respected moderate, announced his support for tax reform for marijuana businesses just a few months ago after Congressman Earl Blumenauer successfully brought him into the fold. At the press conference announcing his position on tax reform, Senator Wyden mentioned that Senator Merkley would be introducing banking reform; having the honor to participate in that press conference on behalf of New Approach Oregon was one of my career highlights. Congressman Blumenauer will certainly have an update on federal banking law and will be able to answer questions about federal reforms in general at the Oregon Medical Marijuana Business Conference this September. Whenever positive federal reforms are announced, odds are that progress is being made in Congress thanks to the hard work over the years by Representative Blumenauer.
This latest bill is just the most recent demonstration of the progress sensible cannabis reform is making in Congress. As someone who has spent about 15 years working on marijuana law reform, I am amazed at the progress the cannabis community has made breaking through decades of Reefer Madness propaganda. A list of positive developments courtesy of the Drug Policy Alliance:

The U.S. House voted five times last year to let states set their own marijuana policies (once on medical marijuana, twice on hemp, and twice on marijuana and banking).

A medical marijuana amendment made it into the final spending bill last year that Obama signed into law – marking the first time Congress has rolled back marijuana prohibition in any significant way.

This year the U.S. House has already voted four times to let states set their own marijuana policies (twice on medical marijuana, twice on hemp).

Another House amendment allowing states to legalize marijuana like alcohol without federal interference failed by only nine votes, a stunning outcome considering it was the first time Congress has ever voted on outright repealing marijuana prohibition.

In addition to passing the banking amendment and removing the D.C. ban, the Senate Appropriations Committee has approved three other marijuana amendments this year – allowing Veterans Administration doctors to recommend marijuana to their patients, prohibiting the DEA from undermining state medical marijuana laws, and prohibiting the DEA from undermining state hemp research laws.

23 states have legalized marijuana for medical use – and an additional 16 states have legalized CBD oils, a non-psychotropic component of marijuana that has proven uniquely effective in managing epileptic seizures that afflict children. Four states have legalized marijuana like alcohol – Alaska, Colorado, Oregon and Washington.

***

"At this point, it's probably only a question of when, not if, the failed war on drugs will come to an end," said Bill Piper, director of national affairs for the Drug Policy Alliance. "We basically tore a page out of the campaign playbook for repealing alcohol Prohibition – get state after state to adopt reform and then force the federal government to change."
Thanks to the great work of organizations such as the Drug Policy Alliance, ACLU and local advocates and organizations across the country, cannabis law reform is being passed city by city, state by state. While some advocates, understandably so fed up with the ill-advised Drug War, would like to see federal law changed immediately, this local-first approach is working and is our best bet to end cannabis prohibition federally.
Each city and state that reforms marijuana law for the better, recruits more and more elected federal officials to our cause. It isn't a coincidence that legislators from Oregon, Washington, California and Colorado are leading these efforts. These local and state elections demonstrate to representatives and senators that Drug War reform is a viable political position that is supported by their constituents and once they carefully study the issue, they understand that reforming our Drug War policies is both a good policy choice and good politics. Step by step, we are making progress to end the failed War on Drugs and today is just another sign that cannabis prohibition, like alcohol prohibition before it, will crumble.