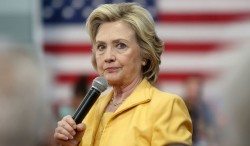 Hillary Clinton was crushed by 17-29 year-old voters in Iowa, as Bernie Sanders defeated the Democratic frontrunner 84%-14%. At the New Hampshire town hall, hosted by CNN, the former Secretary of State demonstrated that she is still severely out of touch on marijuana. Not only is she out of touch with young Democrats, but with Democrats across the board and young voters, regardless of party.
Many pundits and commentators may scoff at voters putting an emphasis on cannabis policy, but the executive policy says a lot more than just what a candidate thinks about someone using marijuana. The next president's policy on cannabis will greatly impact the economy across the country, not to mention the lives of patients and providers.
Hillary Clinton, not surprisingly has taken a very pragmatic approach to marijuana, basically pledging to follow in President Obama's cautious footsteps and supporting moving marijuana from a Schedule I federally controlled substance to Schedule II. The problem with such a pragmatic approach is that millions of lives that could be improved by true access to medical cannabis won't occur fast enough and the lives of providers and business people, following state law, can still be ruined by federal prosecutors, whether the Cole Memo is still in effect or not. People of color, disproportionately hurt by the war on marijuana, will still be arrested and cited for minor marijuana offenses; to some, particularly those in poverty, these minor offenses can have grave consequences.
This rather conservative, certainly not progressive, approach to cannabis is simply bad politics. A majority of Americans support the position shared by Senator Bernie Sanders, ending federal prohibition and simply treating marijuana like we do beer and wine. If Hillary Clinton wins the nomination, she will need the channel some of the enthusiasm of those that #FeelTheBern. Moving more progressive on marijuana, while it won't bring along all of the Bernie supporters, it can't hurt.
Featured photo credit: Jim Cole (Associated Press/File)