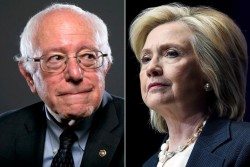 On one hand, Hillary Clinton should be commended for moving in the right direction on marijuana policy. It is a testament to the momentum of the cannabis law reform movement that the Democratic frontrunner, not exactly known to be a progressive trailblazer on most social issues, espouses solid political rhetoric on reforming the criminal justice system and has recently announced that she believes that marijuana should be rescheduled to a Schedule II controlled substance, down from the ridiculous Schedule I classification that declares that cannabis doesn't have any accepted medical value.
There are some benefits from moving marijuana to a Schedule II substance, but Clinton is simply too far behind of Vermont Senator Bernie Sanders on the issue. Sanders' call to completely remove marijuana from the list of scheduled controlled substances, treating marijuana as the federal government does alcohol, is clearly the proper choice. All of the scientific evidence and facts on the ground show that it doesn't make any sense to prohibit cannabis while legalizing alcohol. The fact that 58% of Americans support legalizing marijuana demonstrates that it ending cannabis prohibition isn't just the proper policy, but is also good politics.
Bernie Sanders released a press release after Clinton announced her support for rescheduling marijuana:
U.S. Sen. Bernie Sanders on Saturday renewed a call to let states decide whether to legalize marijuana possession, a proposal detailed in a bill introduced Wednesday in the Senate. Sanders commented after former Secretary of State Hillary Clinton, at a separate appearance in South Carolina on Saturday, offered her own proposal to loosen restrictions on marijuana.

"I am glad to see Secretary Clinton is beginning to address an issue that my legislation addressed," he said, "but her approach ignored the major issue. Secretary Clinton would classify marijuana in the same category as cocaine and continue to make marijuana a federally regulated substance.

"If we are serious about criminal justice reform and preventing many thousands of lives from being impacted because of criminal convictions for marijuana possession, we must remove marijuana from the federal Controlled Substances Act and allow states the right to go forward, if they choose, to legalize marijuana without federal legal impediments," Sanders added.
Bernie Sanders' campaign has moved the Democratic primary race towards more progressive policies on a whole host of issues and cannabis is no different. It is heartening to hear the Democratic candidates, and even some Republicans, consistently tout their support for ending our nation's mass incarceration crisis and instituting sensible criminal justice reforms, including improving federal marijuana policy. However, neither Hillary Clinton (or Martin O'Malley for that matter) have moved as far as the nation needs, or as far as a majority of the nation supports. Clinton's new cannabis policy would have been great in 2008, but in 2016, Hillary Clinton's marijuana policy isn't good enough.