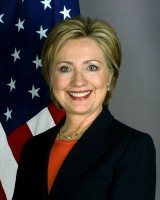 On Monday, Hillary Clinton said she would not crack down on state and cities with legal marijuana. Speaking at a campaign stop in Luther College, she expressed support for the right of states to implement their own marijuana laws free of federal intervention.
This is certainly a moment which advocates for marijuana reform have been waiting for. Hillary Clinton had spoken out against decriminalization years ago, but hadn't taken the chance to update her position on marijuana policy in light of rapidly changing public opinion. So far during her presidential campaign, Clinton has been reluctant to discuss the issue of legalization, and for a long time it seemed she would be too cautious to talk about marijuana at all.
In fact, Hillary Clinton didn't bring up marijuana in her speech on Monday: the question was brought forth by a member of the audience. Her statements on marijuana policy, while bold, have not yet received much media attention. After conducting a thorough search of the web, Marijuana Politics has yet to uncover audio or video recording of her answer. The information was relayed through a tweet courtesy of CNN's Dan Merica:
Clinton on whether she would legalize marijuana as president: "I would support states and localities that are experimenting with this."

— Dan Merica (@danmericaCNN) September 14, 2015

It would be very exciting news for cannabis activists if the Democratic frontrunner demonstrated support for legalization throughout the campaign. This would be a dramatic shift by Hillary Clinton, who opposed marijuana decriminalization during her previous presidential run in 2008 and has been very cautious on the issue. However, there have been signs that Clinton was open to sensible cannabis regulations.
How long before Bernie Sanders follows suit or even more strongly shows support for ending cannabis prohibition and more Drug War reforms? More analysis coming soon…