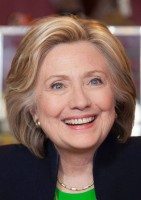 Despite Bernie Sanders' surge, particularly in the first primary state of New Hampshire, Hillary Clinton remains the Democratic frontrunner and the odds-on favorite to be the next President of the United States. Thus, it remains extremely important that cannabis law reformers lobby Clinton to support sensible federal marijuana policies that build upon gains made under the Barack Obama Administration. Secretary Clinton hasn't voiced the most progressive stances on marijuana policy in the past, actually out of step with her Democratic constituents. The Democratic frontrunner was confronted by an Iowa mother who made a desperate plea for the legalization of medical marijuana to help her daughter while Clinton was campaigning at the Iowa State Fair.
Politico reported:
A 30-something Iowan mother named April Stumpf asked her to support legalizing medicinal marijuana nationally. Stumpf's three-year-old daughter, Quinn, has a severe case of epilepsy and is about to die, she explained to Clinton. Her doctors recommend medical marijuana to ease the pain, but it's hard to get because it's illegal to sell in Iowa. The state allows residents to get medical marijuana cards and purchase the drug out of state — but often states that sell it require patients to be present for purchase, and Quinn is too sick to travel.

"She's not expected to live past … " her voice trailed off. "I mean, she can go at any time."

Clinton agreed that there should be more research on the subject. And when Stumpf walked away, she dispatched her aides to get her contact information as the crowd continued onward.
I can only imagine the pain of any parent who has to witness their child suffering. It is an outrage that medical cannabis isn't available to patients in need, from children with epilepsy to veterans battling post-traumatic stress to patients battling a host of debilitative conditions. It is imperative that the next President of the United States be on record as supporting medical marijuana federally as too many people are needlessly suffering. Geography shouldn't determine whether you or your child gets the best medical treatment available. Hopefully, the plight of April Stumpf and her daughter will help convince Hillary Clinton to get on the right side of history on this issue.
Presidential candidates, like Hillary Clinton, get swarmed by potential voters while eating the obligatory state fair food.