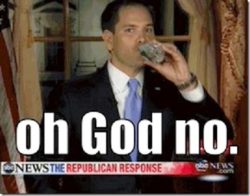 In upcoming elections, Florida contests for US senator, US Representative, and a medical marijuana initiative will help decide the legal future of cannabis both statewide and nationwide.
Senate Race
He's baaaack! "Little" Mario Rubio will be running for senate reelection after all. This prohibitionist Republican used his first Senate term as little more than a springboard for his presidential run. He was often absent, seldom voted, and refused to run for a second term. Rubio figured he would be president, but now he has "changed his mind," and will seek senate reelection. This is unfortunate for cannabis reform, as Rubio is opposed to marijuana and to changes in it laws. His chances for reelection are good; the failed presidential candidate is ahead in the polls and can expect massive contributions from prohibitionist billionaire Sheldon Adelson.
Rubio will face either Democrat Patrick Murphy or Alan Grayson in the November elections. The Florida State Primary Election Day is August 30.
House Race
Also to be decided August 30 is whether Democratic House Representative Debbie Wasserman Schultz will prevail in her first primary challenge. Debbie is an ardent prohibitionist, opposed even to medical marijuana for Floridians. Her freedom fighting primary challenger, Tim Canova, is just the opposite; he opposes the war on drugs, especially marijuana, and favors criminal justice and incarceration reform.
Schulz will be difficult to overthrow. The four-term congresswoman has the support of the presumptive nominee, Hillary Clinton. Even President Barack Obama, whom Debbie has back-stabbed repeatedly, for some reason has her back. Plus she can count on huge donations from liquor companies and payday loan outfits, both major contributors to her campaign. To help turn this important congressional seat from prohibitionist to progressive, please contribute to Tim Canova's upstart primary campaign.
Medical Marijuana Initiative
The Florida Right to Medical Marijuana Initiative, is also known as Amendment 2. According to Ballotpedia, "it is an initiated constitutional amendment on the Florida ballot on November 8, 2016." It is also known as the awkwardly titled, "Use of Marijuana for Debilitating Medical Conditions." This is the second try for the initiative in Florida. The first failed in 2014 after receiving a "yes" majority but failing to attain the 60% high bar. It was opposed with huge contributions from anti-marijuana gambling billionaire Sheldon Adelson and attacked by Debbie Wasserman Schultz, both of whom are expected to opposed the 2016 version. Worse yet, David Downs reports in Legalization Nation that "billionaire drug war profiteer Mel Sembler vowed to raise $10 million to defeat Measure 2."
Despite these deep prohibitionist pockets, the initiative recently polled with 69% voting for passage. It is backed by Florida spark plug attorney John Morgan, along with the Florida Democratic Party.
Floridians should do all they can to rid Congress of marijuana prohibitionists Marco Rubio and Debbie Wasserman Schultz, and then pass this medical marijuana initiative!