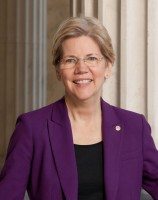 Senator Elizabeth Warren says it is time for the federal government to study marijuana, and she doesn't stand alone.
On Monday, a group of U.S. Senators led by Elizabeth Warren released an open letter to federal officials asking them to work together to facilitate research on marijuana's effects. "Federal agencies have both an opportunity and responsibility" to conduct reliable research on marijuana, the letter says, adding that while medical marijuana is already legal in 23 states, there still remains a "data shortfall" in regards to the plant's medical benefits.
Sen. Warren has been an open supporter of medical marijuana since 2012. Almost half of U.S. states allow marijuana use to treat certain medical conditions, but the federal government still classifies marijuana as a Schedule I drug, which means it does not recognize any of the plant's medical benefits. This makes marijuana research quite difficult in the United States, as the federal agencies hold the monopoly on legal marijuana cultivation.
The letter was sent to three federal agencies which have authority over marijuana regulations: the Department of Health & Human Services, the Drug Enforcement Administration, and the Office of National Drug Control Policy, sometimes known as the office of the "drug czar." It was signed by seven other Democratic U.S. Senators, "all of whom have introduced or cosponsored previous marijuana legislation."
The Senators' letter makes a point to support marijuana research, not just in terms of its health risks, but also in terms of its medical benefits:
While the federal government has emphasized research on the potential harms associated with the use of marijuana, there is still very limited research on the potential health benefits of marijuana — despite the fact that millions of Americans are now eligible by state law to use the drug for medical purposes. There is no substitute for rigorous preclinical and clinical research on the potential benefits of medical marijuana.
Last week, the U.S. House of Representatives voted against a bipartisan amendment which would have facilitated studies on marijuana by lifting some of the obstacles to research between federal agencies. As the defeat of this amendment was largely due to "national Republicans' uncertainty" about medical marijuana, Warren's open letter can be seen as a sign that the issue has a place on the Democrats' political agenda.
The letter concludes by urging the federal government to take the lead on the issue of marijuana research:
Relevant federal agencies must play a leadership role in coordinating and facilitating that research if we are to ensure that public policy in this area is supported by our best science.