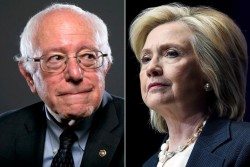 Hillary Clinton has talked a pretty good talk on criminal justice reform during the 2016 Democratic primary, but she disappointed many cannabis law reform advocates by refusing to endorse marijuana legalization. Bernie Sanders, on the other hand, has long enjoyed the support of many cannabis law reformers and the insurgent candidate rewarded reformers with his call to effectively end federal cannabis prohibition by removing marijuana from the list of scheduled drugs controlled by the federal government.
After Clinton announced her criminal justice reform platform, the Sanders campaign immediately pounced, declaring that any reform platform must include marijuana legalization. Bernie Sanders is right to challenge Hillary Clinton on marijuana legalization because marijuana prohibition disproportionately hurts people of color. From Buzzfeed:
In short, Sanders says the racial disparities in the justice system cannot be remedied without ending the federal war on marijuana and banning the death penalty. Clinton is not ready to change federal law on marijuana and says the death penalty is an important tool in the belt of federal prosecutors.

As Sanders criss-crossed New Hampshire Friday, his campaign bracketed her criminal justice policy rollout in Atlanta with a statement saying Clinton wasn't going far enough.

"When we talk about criminal justice reform, we also need to understand that millions of people have been arrested for using marijuana," Sanders said in the statement, adding, "Any serious criminal justice reform must include removing marijuana from the Controlled Substances Act."
Clinton has somewhat evolved on her position on the criminalization of cannabis since she last ran for president as the former First Lady even opposed decriminalization during her 2008 presidential run. It would have been reassuring if Clinton would have expressed her support for medical cannabis when she was confronted by an Iowa mother desperate for relief for her ailing child, but at least Clinton managed to state support for medical marijuana (matching Donald Trump, of all people) in the Democratic debate when she refused to support legalization.
We are clearly living in the "golden age" of criminal justice reform. In less than two decades, hard-working advocates have legalized medical cannabis in 23 states; cannabis is legalized in 4 states and our nation's capital; several more states are poised to legalize either medical or adult-use cannabis in the next few years; thousands of nonviolent drug offenders have been released from federal prison as sentencing reforms have been retroactively applied; President Barack Obama has stated that more can be done on criminal justice reform; every Democratic presidential candidate is very sensible on criminal justice and even a few Republicans as well; and most importantly, a strong majority of Americans support cannabis legalization and sensible criminal justice reforms.
With such success and momentum, now is not the time to be timid. Drug War reformers have come too far and have too much momentum to settle for a candidate or platform that doesn't include cannabis legalization. Canada just elected the Liberal Party into power, a party that pledged to legalize marijuana, showing us that it can indeed be done. Hillary Clinton, despite her good rhetoric, doesn't understand that the changes she would like to see, such as ending racial profiling and ending the age of mass incarceration, require cannabis legalization.
While prohibitionists like to claim that no one is really serving prison time for marijuana possession, what they don't mention is the fact that millions of people, disproportionately African Americans, are first brought into the criminal justice system because of minor marijuana offenses and that just minor offenses can have drastic consequences for people battling poverty. Bernie Sanders understands this important reality and should be commended for his platform and the fact that he is calling Hillary Clinton out on her inadequate marijuana policy position.