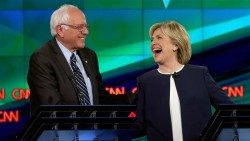 Vermont Senator Bernie Sanders, fresh off of three crucial, landslide victories in Washington, Alaska and Hawaii, returned to calling for a debate with front-runner Hillary Clinton in New York, ahead of the state's April 19th primary. Former Secretary of State Clinton is the favorite in the state she represented as senator, but Sanders was born in Brooklyn and plans on making a big push in the delegate-rich state. Sanders hopes to seize upon his momentum and find a path to victory despite Clinton's delegate lead. The Vermont Senator has even started a petition urging Clinton to debate him in New York.
An unforgettable moment. "Bern, you just won Washington." So proud of you! pic.twitter.com/72kZdk7ZFW

— Jane O'Meara Sanders (@janeosanders) March 27, 2016
Senator Sanders is correct in that the Empire State should host a debate between the candidates. We'll go one step further and contend that the Democrats should host a debate in California as well. The two most populous Democratic strongholds, should not only have a massive amount of influence in selecting the next nominee with their respective delegates, but the candidates should also have to face voters in those states and address their concerns.
Coming off 3 sweeping victories yesterday, @BernieSanders challenges @HillaryClinton to debate on her home turf: New York.

— Brad Mielke (@TheBradMielke) March 27, 2016
New York and California shape the United States in many ways, beyond just population. New York is the media capital of the world while the Golden State is the global entertainment mecca. The economies of both states exceed most nations as California's economic impact ranks 7th worldwide, just ahead of the entire country of Brazil. New York State is no slouch either, with the 3rd gross state product in the U.S., just behind Texas, the Empire State's global economic impact ranks 12th in the world, ahead of Australia, South Korea and Spain.
Of course, we here at Marijuana Politics want the Democratic candidates to be pressed further on their marijuana policies, as well as larger criminal justice issues as these topics weigh large in these two states. Both have made good statements on criminal justice issues, while we give Sanders an "A-" for his marijuana policy, while Hillary Clinton is in the "B" range, but seems to be evolving in the right direction. Both of the candidates need to be reminded by their base about the importance of dramatic justice reforms as just being better than the other party isn't good enough.
As President, let me be very clear that no one will fight harder to end racism and reform our broken criminal justice system than I will.

— Bernie Sanders (@BernieSanders) February 10, 2016
Our criminal justice system is broken. We need to end mass incarceration and close private prisons. https://t.co/8KJYXm5v6K

— Hillary Clinton (@HillaryClinton) January 12, 2016
New York and California voters deserve to hear candidates' address climate change, from fracking to EPA regulations, as well as trade policies, immigration and a whole host of issues facing these states, as well as our nation. Democratic voters deserve to hear more from these two candidates and New York and California are the perfect venues for the last two debates between the Democratic contenders.
(Featured photo credit: Joe Raedle / Getty Images)