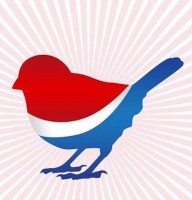 Update: After adding a 70% to 30% Hawaii victory, Bernie Sanders pulled off a clean sweep on Saturday.
Vermont Senator Bernie Sanders needed huge winning margins in Washington and Alaska over Democratic establishment front-runner Hillary Clinton and he got those much-needed wins thanks to record turnout. Many supporters of Bernie Sanders playfully dubbed themselves as "Birdiecrats" after a sparrow flew onto his podium as he spoke before thousands of supporters in Portland, Oregon, on Good Friday, kicking off his campaign swing through the Great Northwest ahead of crucial caucuses for the anti-establishment campaign. (Of course, I have to mention that both Alaska and Washington have legalized cannabis and Bernie Sanders is the only Democratic or Republican candidate calling for an end to federal marijuana prohibition. As more states will legalize cannabis in the coming years, politicians should take notice.)
WATCH: A bird lands on @BernieSanders' podium during a campaign event in Portland! #BirdieSanders https://t.co/A17Ihuqizb

— Good Morning America (@GMA) March 26, 2016
With 100% of the vote counted, Alaska Democrats overwhelmingly supported Sanders with 81% of the vote, his largest margin of victory except for his home state of Vermont. Record-breaking turnout helped propel Sen. Sanders to victory as over twice as many Democrats flocked to vote in the 2016 primary as they did in 2008 when Barack Obama also defeated Hillary Clinton. Bernie Sanders was awarded 13 of the state's 16 delegates for his dominating 60 point victory.
Thank you, Alaska! Together we are sending a message that this government belongs to all of us. https://t.co/igIyUhWlrs

— Bernie Sanders (@BernieSanders) March 26, 2016
Washington, the biggest prize of the weekend, with 101 delegates, was called for Bernie Sanders after about 30% of the vote was counted and Senator Sanders winning with more than 70% of the vote. Turnout seemed extremely high in Washington State, where Senator Sanders urged supporters at Safeco Field in Seattle Friday night to help provide the big voter turnout his campaign needs to be successful. Sanders securing 70% of Washington's delegates would earn him 70 delegates or so to Clinton's 30.
Washington, thank you for your huge support! It is hard for anybody to deny that our campaign has the momentum. https://t.co/WceryuCx6B

— Bernie Sanders (@BernieSanders) March 26, 2016
After Alaska and Washington's caucuses, Bernie Sanders will trail former Secretary of State Clinton by about 250 delegates, with Hawaii results still to come. Senator Sanders has been expected to perform well in Hawaii as well, with Hawaii Representative Tulsi Gabbard stumping for him in the state. Fivethirtyeight.com has previously projected Sanders to win Hawaii with 58% of the vote, but he has already out-performed the websites projections for Alaska (63%) and Washington(60%) by at least 10 points.
.@TulsiGabbard: 'What I saw in Bernie Sanders was the heart of Aloha.' Find where to caucus: https://t.co/qIJY7cH1Vxhttps://t.co/f4bwIlGH5W

— Bernie Sanders (@BernieSanders) March 25, 2016

The mainstream media has long discounted the Bernie Sanders campaign and his victories this weekend will largely be ignored while political pundits point to her delegate and superdelegate leads. The insurgency candidacy will likely garner a boost of enthusiasm as Sanders' supporters continue to donate and volunteer for the upstart candidate.
Bernie Sanders wins Alaska and leads big in Washington caucus – campaign live https://t.co/KdKVwUCLj7

— The Guardian (@guardian) March 26, 2016
Next up is Wisconsin, whose open primary should provide an opening for Senator Sanders to perform very well. Polls have had Clinton winning by about 5 points or so, but fivethirtyeight.com projects a 52% to 48% victory for Sanders. Sanders supporters will be tweeting about his victories in Washington and Alaska for a while, but if he can pull off another huge victory in Wisconsin, naysayers that have ignored and ridiculed Senator Sanders and his Birdiecrats may have to eat some crow.