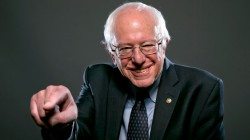 The fact that Bernie Sanders is just 7% down from Hillary Clinton in Missouri's Democratic primary this Tuesday has been widely reported. The Docking Institute of Public Affairs Poll conducted for Missouri newspapers has the Democratic establishment candidate Clinton with 47% of the vote with the anti-establishment Sanders at 40%, within the 8% margin of error, likely a positive sign based upon polling trends and the fact that Sanders won Michigan after trailing in the poll of polls by more than 20%. What hasn't been widely publicized, if at all, is that Bernie Sanders bests Republican front-runner Donald Trump in a head-to-head matchup 43% to 40% while Trump beats Clinton 43% to 38%.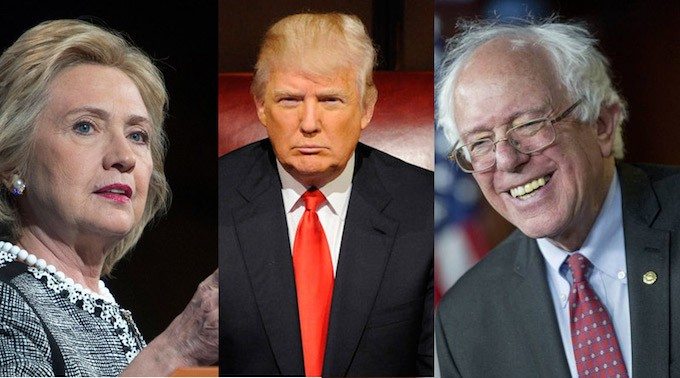 Granted, the Docking Institute's poll numbers are within the margin of error and aren't completely predictive as general election polls at this time of the primary season can be well off the mark. However, any objective political observer can agree that this primary season is unlike any in modern campaign history, otherwise we wouldn't have a 74 year-old Jewish democratic socialist defeating the "inevitable" Democratic establishment front-runner in a number of important states. The Republican nominating process has obviously thrown conventional wisdom on its head as Donald Trump, a former New York City Democrat who once supported drug legalization, partial birth abortion and marriage equality (at least for Elton John) is the undisputed GOP front-runner without having to buy any TV ads or maintain many get-out-the-vote campaign operations.
Bernie Sanders often states that many polls show him the better candidate to defeat Donald Trump, a claim that Politifact calls "Mostly True." While many pundits and Hillary Clinton supporters discount polls showing Bernie Sanders as the better Democratic candidate to defeat Donald Trump, there are trends during the campaign so far that back up what many polls, including this recent one in the Show-Me State, have been showing.
Look at the enthusiasm of the base of the support between Sanders and Clinton. Not only does Bernie attract large crowds, like his GOP counterpart Trump does, when Sanders has won states, there has usually been very large turnout, either overall or among young voters (the hardest voters to turn out). Many polls, particularly those in Michigan, didn't capture the enthusiasm gap among the candidates.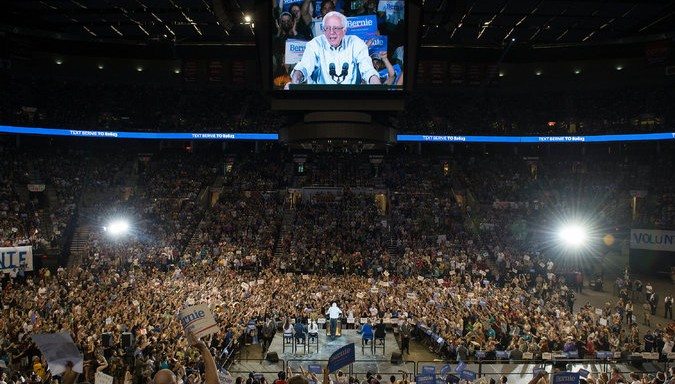 Examine the independent vote, a voting bloc that has helped Trump on the GOP side. When independents can vote, such as in the New Hampshire and Michigan primaries, Sanders has bested Clinton greatly (about 70% to 30%) among these independent voters. Despite the statements from some Republicans that they won't vote for Trump and some Democratic voters that say they won't vote for their non-preferred candidate (this seems much more prevalent among Bernie supporters), it is reasonable to expect that party members will unite for the most part and that there will be a battle for the more than 40% of Americans that consider themselves independents.
Considering Donald Trump's base of support, the "angry white man" voting bloc if you will, it seems obvious that Trump will run up large margins among white men, especially in blue-collar states like Ohio, Michigan, Pennsylvania and Missouri against Hillary Clinton. Trump will be able to tap into this working-class anger and demonize Clinton for her ties to Wall Street special interests and support of free trade policies that many of these voters feel have shipped their factory jobs overseas. Donald Trump won't be able to use those attacks against Bernie Sanders, who defeated Clinton 62% to 37% among white men in Michigan.
Donald Trump's rhetoric and policies will surely energize the Democratic base that consists of women and people of color, regardless of whether the Democratic candidate is Clinton or Sanders. However, among young people and independent white voters, who are fed up with politics as usual, there is simply too great of a chance that many of these voters will support Trump, sit out the election or vote third-party (or even write-in Bernie.) There are many reasons to support a presidential candidate, but if you are in a swing state like Missouri, Ohio, or Florida, and are considering electability as a primary reason to choose your Democratic candidate, then polling and political trends are showing more and more that you should cast your vote for Bernie Sanders.
Of course, I #FeelTheBern, and we here at Marijuana Politics are pulling for Bernie Sanders in the Democratic nomination, the candidate who wants to repeal federal cannabis prohibition and put justice back in our criminal justice system. Please donate to Bernie, volunteer, phone bank, Facebank, share posts like this on social media, or basically anything you can to help the cause of the only mainstream candidate that wants to end the federal war on the cannabis community. You can check out our archive for posts on the civil liberties policies, including cannabis legalization and greater drug policies, about Bernie Sanders, Hillary Clinton, Donald Trump, Ted Cruz, John Kasich and Marco Rubio.