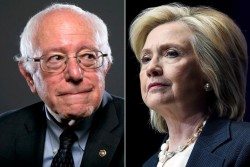 Hillary Clinton's contribution to our era of mass incarceration has garnered increased media attention after Black Lives Matter protester Ashley Williams asked Clinton for an apology during a fundraiser in South Carolina. Criminal justice reform has been a big issue between the Democratic front-runner and challenger Bernie Sanders throughout the campaign, but especially as voting is about to occur in states with large African American communities, who have been decimated by the 1994 Bill Clinton Crime Bill and the Drug War in general.



When examining who has a better policy to help end our era of mass incarceration, Senator Sanders simply has the better policy. Bernie Sanders and Hillary Clinton have called for some of the same policies, such as ending the use of private prisons, with Clinton following Sanders' lead on the issue, and equipping police with body cameras. On two very important issues, Sen. Sanders is head and shoulders above former Secretary of State Clinton: eliminating mandatory minimum sentences and ending federal marijuana prohibition.

We need to end mandatory minimum sentencing and give judges the discretion to better tailor sentences to the specific facts of a given case.

— Bernie Sanders (@BernieSanders) December 23, 2015
Classifying marijuana in the same category as cocaine ignores the major issue.https://t.co/mgmHtbXhtz

— Bernie Sanders (@BernieSanders) November 8, 2015
To her credit, the former First Lady wants to reduce mandatory minimum sentences and allow states to move forward with their own marijuana policies, but these half-measures aren't progressive enough for the communities that have been most harmed by a racist and classist criminal justice system. Senator Sanders, will restore the judicial branch's discretion in considering a variety of factors when sentencing offenders by completely eliminating mandatory minimums. By ending the federal War on Marijuana, our nation's law enforcement resources can be better utilized on more important matters, such as terrorism, and state-regulated marijuana businesses will be able to utilize banks and tax deductions (not to mention not have to worry about a federal raid) just like any other business.
While some have downplayed the significance of altering federal criminal justice policy on the prison population, since a vast majority of prisoners are held in state prisons, these critics are missing how influential national policy is on local issues. By eliminating federal marijuana prohibition, the United States government will no longer provide incentives to local police for arresting people for marijuana; we have already seen how a change in funding has altered law enforcement behavior at a Texas checkpoint famous for arresting Willie Nelson and others. Many states will follow the lead of the federal government and will look to alter their marijuana and mandatory sentencing policies as they realize the public benefits.
As the great Michelle Alexander has written, neither Hillary Clinton or Bernie Sanders should get a pass on the Clinton Crime Bill as Sanders did vote for the bill as a House member. However, their history should be taken into full context, including statements they made at the time about the bill and other policies they supported.

Then-First Lady Clinton also championed her husband's welfare bill that hurt poor people across the nation, disproportionately people of color. Also, their statements regarding crime were vastly different. Bernie Sanders made clear that he was opposed to the increased criminalization of our society, but was torn by the Clinton Crime Bill because it also included the Violence Against Women Act. Hillary Clinton, on the other hand, showed no such confliction, stating that a bill was needed because of "super predators" that "we have to bring them to heel" and she should apologize for such language.
More important than any apology, is the policies being proposed by Hillary Clinton today compared to Bernie Sanders. If we, as a nation, want to start unraveling our era of mass incarceration, to repeal our New Jim Crow laws, then Bernie Sanders' clearly has the better policies to help us turn the page on a racist and shameful chapter in our nation's history.
Featured Photo credit: AP/Getty