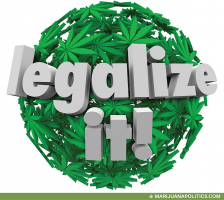 The momentum for marijuana legalization is increasing in the United States and abroad as we have seen great progress in a handful of states as well as entire countries. Cannabis law reform advocates from across the globe are working hard to see end the failed and harmful policy of cannabis prohibition. Colorado and Washington State led the way in America; Uruguay pushed the issue internationally; Oregon, Alaska and Washington, D.C. passed historic legalization measures in 2014; and the election of the Liberal Party in Canada placed a party that included marijuana legalization in its platform into power.
All of the progress for cannabis law reform makes future progress more and more likely as people can see that the sky doesn't fall in places that and many aspects of society can actually improve when you better prioritize law enforcement resources, create new jobs and generate millions of dollars in revenue. The Rolling Stone's Kristen Gwynne, recently wrote about the next five states she sees legalizing marijuana, here's her top three:
1. California made history in 1996, when it became the first state to legalize medical marijuana; next November, it will vote to allow recreational weed, and polls indicate the amendment will likely pass. "Then we will have reached the tipping point," says Angell, of the Marijuana Majority. "And with California having so many members in Congress, it will give a huge boost to our efforts to change federal law."

2. Maine's legislators may have rejected recreational marijuana this summer, but the state's voters have taken measures into their own hands. A signature drive to put legalization on the 2016 ballot is underway, and in the past two years, voters in two of its biggest cities, Portland and South Portland, went ahead and passed referendums in favor of legislation.

3. Massachusetts opened its first medical dispensary this summer, and many believe the state will legalize weed by referendum in 2016. "Polls show voters are poised to pass full legalization next November," says Angell.
Vermont and Nevada round out Gwynne's top five. Interestingly, Gwynne left off Ohio when Buckeye State voters will be determining the fate of the controversial Issue 3 legalization measure sponsored by ResponsibleOhio on November 3rd. Recent polls in Ohio show a very close election for Issue 3, probably a nail biter. Our very own Russ Belville has been the biggest national proponent of Issue 3, helping NORML become more vocal as of late. There is much debate within the cannabis community about Issue 3 and we shall soon see if Ohio will be the first state to legalize marijuana in the Midwest and jump other states that have seemed more likely to legalize marijuana before the Buckeye State.