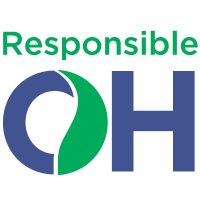 The Silence of the Lambs
You wouldn't know it by reading the news or by viewing the webpages of major marijuana reform and medical marijuana groups, and if you did, some would offer no endorsement. But tomorrow, we are just three weeks away from residents of Ohio voting whether marijuana shall be legal for all adults to possess, use, cultivate, and process.
The Buckeye State might be legalizing both adult use and medical marijuana, in 2015 no less, a year before California might and easily five years before anyone would've predicted even talking about it. Why isn't every drug law reform group making their get-out-the-vote push and shouting it from the rooftops?
After all, just three years ago the National Organization for the Reform of Marijuana Laws (NORML) and the Marijuana Policy Project (MPP) gave full-throated endorsements of Washington's I-502. Drug Policy Alliance (DPA) funded most of I-502. That imperfect marijuana legalization initiative retained possession felonies at over 40 grams, retained criminal penalties for personal cultivation, and instituted a junk-science 5-nanogram per se DUID limit that all three groups vehemently oppose.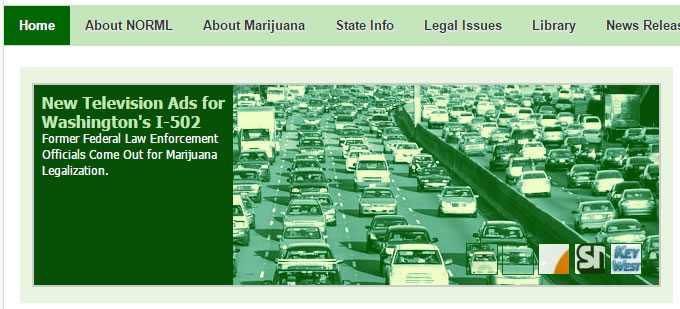 This week in 2012, NORML's webpage featured an above-the-fold slide highlighting the former law enforcement officials who appeared in two TV commercials in support of Washington's upcoming legalization vote. But NORML made no reference that I can find to two TV commercials featuring a retired former Cincinnati police captain supporting Ohio's legalization next month.
In fact, late night comedy host Stephen Colbert has given more attention to legalization in Ohio than any of the major marijuana legalization organizations.
Damning With Faint Praise
NORML's mentions of a marijuana legalization vote imminent in Ohio included founder Keith Stroup's July blog on the issue, where he leads with the critics' opposition to the initiative, offers some context versus other legalization plans, and gives a half-hearted assurance that NORML will likely endorse the initiative. Then in September, NORML announced its endorsement of 2015 marijuana legalization in Ohio as "A Bitter Pill to Swallow", because it is an "Investor-Driven Initiative".
That hardly makes you want to run to the polls and vote yes, does it? Not like NORML's endorsement of I-502 in 2012, which promised "For the next nine months national NORML and its dozen in-state chapters will provide logistical, strategic, communications and fundraising support for Initiative 502" and had its advisory board member Rick Steves touring the state and pouring in hundreds of thousands of dollars in support. In 2015, not only is National NORML barely tepidly supporting legalization in Ohio, their state affiliate is openly fighting against 2015 marijuana legalization in Ohio.
MPP's board has decided to be officially neutral on 2015 marijuana legalization in Ohio, but last week Dan Riffle (speaking for himself as a non-pot-smoking former prosecutor in Ohio and not as MPP's Federal Policy Director) was the opposition argument to 2015 marijuana legalization in Ohio to my supporting argument in a recorded discussion for This Week in Drugs with Sam Tracy and Rachelle Yeung. Certainly, listeners will appreciate the nuance that Riffle's not speaking for the neutral MPP.
DPA has also remained virtually silent on 2015 marijuana legalization in Ohio. But DPA head Ethan Nadelmann has said the initiative "sticks in my craw" because "what we've unleashed now is for-profit interests, big business interests, with no connection to this movement…." But my sources tell me DPA might get behind the California legalization efforts of for-profit entrepreneurial billionaire Sean Parker, the big-business interest who founded Napster and invested early in Facebook. I don't recall what Parker's connection to this movement is, but Facebook has certainly been unfriendly to the movement.
When Business Plans Trump Civil Rights
The part that's sticking in the craw of NORML, MPP, and DPA is not that the 2015 marijuana legalization in Ohio would include the same personal public possession (1 ounce) as CO/WA/OR/AK; not the same 4 mature plants and 8 ounces at home as OR, 1 more mature plant than CO/AK, and 4 more than WA; not the legalization of an ounce of concentrates, equal to CO/OR/AK and four times WA; not the same type of legal pot shops to shop in and own, potentially more in OH than in CO/WA/OR/AK combined; not the same type of testing and processing facilities one could own to protect the public; not the establishment of a medical marijuana program that meets or exceeds those in CO/WA/OR/AK; and not the taxes that are roughly between what CO and WA have established. The Big Three drug reform orgs are happy with those parts.
It's the grow part they don't like. The 2015 marijuana legalization in Ohio designates ten plots of land totaling over 13,000,000 square feet as the only places legal commercial cannabis growth, cultivation, and extraction can take place. Those ten plots are owned by the ten investment groups that have sunk $2,000,000 each into this legalization campaign. To the reform organizations that have passed prior legalization laws thanks to the largess of three philanthropic billionaires, this legalization plan amounts to an oligopolistic money grab that limits commercial cannabis cultivation land to just a few rich people.
Their opposition to a few rich people in control of growing shouldn't be confused with the medical marijuana laws eagerly supported by these same drug reform orgs. Laws like Connecticut's that only allow a maximum of ten growers and require a $25,000 non-refundable application fee and $2,000,000 in escrow. Or New Jersey's that allows only six growers. Or New York's that allows only five growers. Or New Hampshire's that allows only four growers. Or Minnesota's that allows only two growers. For some reason, a handful of wealthy people getting rich selling marijuana (or non-smokable marijuana products in Minnesota and New York) to patients isn't reason enough for the marijuana law reform organizations to avoid promoting or to outright oppose those laws.
Ohio's grow oligopoly isn't even as restrictive as those five medical marijuana states. While those states limit medical marijuana cultivation specifically to the holders of 10, 6, 5, 4, or 2 licenses, Ohio is limiting cultivation to ten already-owned plots of land. There is no limitation on how many licensed growers may be cultivating those 13,000,000 square feet. Already the owner of the Licking County property has agreed to lease 15 acres of it for a medical cannabis research facility. The owners of four properties have assured the Ohio Rights Group that they will be leasing to multiple artisanal small grows.
That flexibility is confirmed by the amendment itself, which states, "[no laws] shall prohibit the creation of transferrable and recordable legal descriptions or separate tax parcel numbers for any of the [grow sites]." It also allows the grow sites to "expand its structures and related operations to adjacent real property". Best of all, unlike the licenses issued in other legal states, which can be subject to the whims of state and local lawmakers and regulators, these plots of land are constitutionally protected for the right to cultivate commercial cannabis. Furthermore, after four years, if these 13,000,000 square feet aren't producing enough quality cannabis to satisfy demand, the state may open up more land for commercial growing.
Patients Can't Wait!… Unless They're Ohioans
Then there's the medical marijuana part that you'd think Americans for Safe Access (ASA) would be trumpeting. Currently in Ohio, an adult with cancer or a child with epilepsy who needs concentrated cannabis oil can earn a misdemeanor with 30 days in jail for possession of a single gram or a felony with a year in prison for two grams. The initiative Ohioans are voting on in 22 days would legalize possession of a full ounce of such oil. Unlike any of the other 23 medical marijuana states, Ohio would allow "a patient with a medical marijuana certification [to] self-administer the medical marijuana" in the workplace, and unlike most of the 15 states that have passed cannabidiol-only oil laws, patients would have numerous locations in-state to buy it. But ASA's Ohio advocacy page is silent on 2015 medical marijuana legalization in Ohio.
So, to recap:
NORML, MPP, & DPA enthusiastically supported Washington's I-502, which retained 40 gram felonies, forbade home cultivation, and established a per se DUID limit so low medical marijuana patients and frequent adult consumers can never legally drive.
NORML, MPP, DPA, & ASA gave thumbs-up to medical marijuana laws in Connecticut, New Jersey, New York, New Hampshire, and Minnesota that limited grow sites to ten or less, all in the hands of a wealthy oligopoly, in states where patients aren't allowed to cultivate their own plants.
NORML, MPP, DPA, & ASA are lukewarm, neutral, or silent on Ohio marijuana legalization that would be superior to Washington's I-502 and superior to the most recent medical marijuana laws, because the wrong oligopoly gets rich.
Since when did the marijuana legalization movement stop being about the civil rights of cannabis consumers to be free from prohibition and start being about the right way to enrich cannabis growers?