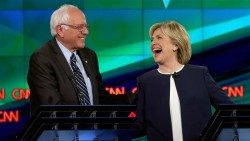 Robert Reich Bill Clinton's Labor Secretary made political waves by endorsing Bernie Sanders last week, despite deep ties with the Clinton family, which even includes a date with the future Democratic front-runner during college. Professor Reich, who taught economics for Harvard before moving onto the University of California, Berkeley, has long been a progressive economic icon, including the fact that he threw his support behind cannabis legalization, first publicly announcing his support for ending marijuana prohibition on Reddit. Reich took to social media to inform people that the race will not be over after Super Tuesday.
The conventional wisdom is that Hillary Clinton will get a near sweep today on Super Tuesday, carried by the large number of southern states with a large number of African-American voters, a similar voting demographic that gave her a resounding victory last Saturday in South Carolina. The anti-establishment Sanders will carry his home state of Vermont, but most pundits are questioning his ability to win many more Super Tuesday states, while Sanders expects to do very well in Minnesota, Colorado, Massachusetts and Oklahoma.
The Super Tuesday polls and prognostications are about to be moot as the votes get counted. Former Labor Secretary Reich posted on Facebook today that the Democratic primary will be far from over, calling statements that Clinton has clinched the nomination as "Baloney." Professor Reich touts the more favorable electoral map, Bernie's army of small donors and Sanders' dedication to taking his movement all the way to the Democratic National Convention to as reasons why the race will be far from over, despite what happens on Super Tuesday.
So, don't take my word for it, listen to Robert Reich. If you want to support the candidate that has called for an end to cannabis prohibition, and to bring justice back to the criminal justice system, and live in a Super Tuesday state, get out and vote. Regardless of where you live, continue to volunteer and donate for the only presidential candidate that has filed a bill to end the failed and harmful policy of marijuana prohibition.
Regardless of how well Bernie does today, the media will say Hillary is now the Democratic candidate. Baloney. The "…

Posted by Robert Reich on Tuesday, March 1, 2016
Photo credit: Joe Raedle / Getty Images