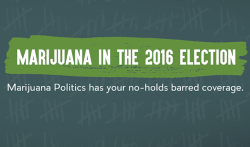 Breaking on Marijuana Politics: Democratic presidential candidate Martin O'Malley touts his progressive cannabis law reform history in a press release announcing a marijuana legalization listening session in Denver, Colorado, this Thursday. The event will be held at the office of Vicente Sederberg, a law firm that has been instrumental in legalizing and regulating cannabis in Colorado. Could this be an early signal Governor O'Malley will call for a repeal to federal cannabis prohibition? If O'Malley does indeed eventually announce his support for legalization, it will be interesting to see how his Democratic rivals.
The former Maryland governor has had a difficult time capturing the liberal Democratic primary base as Vermont Senator Bernie Sanders has captured the hearts of progressive voters, including many cannabis law reform advocates, with his positive Drug War reform statements and policy proposals. Frontrunner Hillary Clinton has locked up the establishment Democratic support, so long as Vice-President Joe Biden stays out of the race.
Governor O'Malley, who does have a good history on marijuana policy, could be sensing an opportunity to garner support among Democratic primary voters (who overwhelmingly support sensible federal marijuana laws) and increase his name recognition by being the first presidential mainstream candidate to clearly and unequivocally call for marijuana legalization, while Bernie Sanders and Rand Paul being the closest to do so thus far.
The press release sent out by the O'Malley campaign:
For Immediate Release:

September 13, 2015

Contact:

Haley Morris, 301-221-5005

***ADVISORY***

Thursday 9:30 AM Denver:

Governor O'Malley to Hold Marijuana Legalization Listening Session

BALTIMORE, MD – Governor Martin O'Malley will hold a marijuana legalization listening session in Denver, Colorado this Thursday, September 17 at 9:30 AM MDT.

O'Malley will hear from policymakers, experts, business owners, and law enforcement about how Colorado's decision to legalize marijuana has been working and affecting communities across the state.

As governor, O'Malley decriminalized marijuana in Maryland and started the state's medical marijuana program. In his presidential campaign, Governor O'Malley calls for re-classifying marijuana as part of his bold, progressive criminal justice platform.

O'Malley has said that Colorado's decision to legalize marijuana should be considered "a laboratory in democracy."

Who: Governor Martin O'Malley, Colorado experts, law enforcement, and policymakers
What: Listening Session on Marijuana Legalization
When: Thursday, September 17 at 9:30 AM MDT

Where: 1244 Grant St, Denver, CO 80203 (Offices of Vicente Sederberg)

RSVP: To attend this event, please RSVP to Matt Corridoni at mcorridoni@martinomalley.com.

###

Former Maryland Governor Martin O'Malley, a 2016 Democratic presidential candidate.