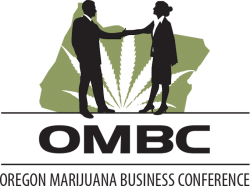 Oregon marijuana laws are continually changing and more changes are on the horizon. Since the passage of the Oregon Medical Marijuana Act in 1998, Oregon's laws have changed several times and the changes are only coming more rapidly now that cannabis commerce has been legalized. The Oregon Marijuana Business Conference will help advocates, industry participants and those thinking of joining the industry get the latest information and prepare for the future. The next OMBC is April 24th at the Eugene Hilton. Get your early bird tickets by this Friday before prices go up.
The OMBC has certainly been one of the most prominent and informative cannabis conferences in Oregon and we are proud to always involve activism as the foundation of our conference, and the Oregon cannabis law reform movement, is to ensure that people stay out of prison and that patients have safe access to medicine. With successful industry participants across the spectrum sharing their experiences, along with attorneys to answer your burning questions, the OMBC is sure to have you prepared to tackle the industry. For the first time at the OMBC, we will also have a presentation by the OLCC, who can answer your recreational marijuana licensing questions.
Dr. Carl Hart, one of the most brilliant scientific minds today, will kick off the OMBC, providing his important insight. Closing the day will be the hilarious Tommy Chong, who will share his experiences in entertainment and business. In between Dr. Hart and Tommy, attendees will get the latest on federal, state and local marijuana laws. We will also have a fun social events that will give attendees a great networking opportunity. The Oregon marijuana marijuana market has already exceeded expectations and is poised to grow. Join us at the OMBC and maximize the potential for your cannabis business!
Please get your tickets by Friday April 8th as tickets have to go up another $50 on Saturday the 9th. Early bird tickets are currently $149 and can be purchased at www.oregonmbc.com.