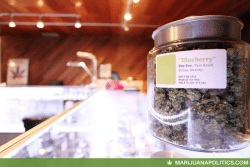 The Oregon Health Authority has released the first draft of the rules to implement Senate Bill 460's limited retail sales of cannabis for adult-use beginning on October 1st.
According to the initial draft of the rules, all existing medical marijuana dispensaries will have the option to sell limited marijuana retail products to adult-use consumers 21 and older – starting in just 42 days.
Oregon's cannabis dispensaries are ready to go, and have been prepping for months to meet the state's adult-use retail cannabis market. This interim period is a great way to provide a boost to Oregon's cannabis businesses while reducing black market purchases.
The rules are pretty much exactly as expected based on what was passed by the legislature this session, and look nearly identical to the content of SB 460. The bill, signed by Governor Brown in late July, called for the OHA to determine by rule precisely how the October 1st limited retail sales for responsible adult use would occur.
In this week's draft, few specifics were provided and it's clear there's still more work to do.
Here is what made it into the rules that pretty much everyone expected:
Dispensaries may begin 21+ adult-use sales beginning on October 1st, 2015
All customers must provide proof of age with valid, government-issued photo ID
There will be no distinction made between medical and adult-use cannabis supplies, and the state's existing medical marijuana will supply both markets
Non-OMMP customers can purchase seeds, up to 4 non-flowering plants, and up to 7 grams of dried flower per person, per day (per store)
Extracts, edibles, and concentrates (and any cannabis products OTHER than dried flowers, seeds, and immature plants) can ONLY be purchased by OMMP cardholders
The rules outline how localities can opt-out of limited retail cannabis sales by medical cannabis dispensaries in their jurisdiction.
Point-of-sale taxes on 'limited retail sales' will begin on Jan 4, 2016 at a rate of 25%
Sales from October 1st, 2015 to January 3rd, 2016 are not taxed (and expect to see some really great specials shortly after the New Year…)
The Oregon Health Authority will require dispensaries that wish to participate in 'limited retail sales' to notify them in a prescribed form at least 5 days beforehand
Here were some more unusual or unexpected things from this week's draft:
Signs will now be required on the exterior of the building clarifying if the business is a medical cannabis dispensary exclusively, or a medical and adult-use store; specifically they require 80 point Times New Roman font,which seems oddly specific.
Stores will also be required to display the OLCC's "Educate Before You Recreate" flyer, which they can download from www.whatslegaloregon.com
A provision was included in the draft rules to require retailers to post signs warning pregnant woman about the dangers of consuming cannabis while pregnant (a bill to require this signage failed to become law this legislative session
End date for 'limited retail sales' is set to be Dec 31st, 2016
Still no word on the exact mechanism to collect the taxes from the 'limited retail sales', but this draft appears to punt the rule-making about exactly how this will work to the Department of Revenue for clarification.
Overall, this is a step forward toward starting Oregon's legal cannabis economy, and it's a step in the right direction. This initial draft is not perfect, but the OHA has been handling this issue with a considered approach and has demonstrated a willingness to listen to both businesses and consumers.
In a statement released on Wednesday, OHA has stated "comments specific to SB460 rules may be directed to medmj.dispensaries@state.or.us until August 26, 2015." so be sure to tell them what you think!
Editor's Note: With these new October 1st, rules announced and the OLCC rulemaking process underway, the upcoming Oregon Medical Marijuana Business Conference (OMMBC) on September 12th & 13th is a great opportunity to get the latest information any cannabis industry entrepreneur would need.