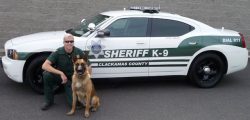 The sale of marijuana flower to all adults started last October and the program has been a raging success for Oregon, creating thousands of jobs and generating millions of dollars in additional revenue. Even more jobs and revenue will be created after cannabis businesses started selling cannabis-infused edibles, extracts and topicals to all adults over the age of 21 on June 2nd. Coinciding with the sale of these additional products, the Clackamas County Sheriff's Office announced that Oregon law enforcement would be using enhanced patrols this weekend with an emphasis on targeting marijuana impairment.
New Approach Oregon posted about the enhanced patrols and sent out an email to over 37,000 legalization supporters:
Yesterday was a historic day for the Oregon cannabis industry as cannabis-infused edibles, extracts and topicals went on sale to all adults. These new products will create even more jobs and generate more revenue for our state and will provide an avenue for some patients that cannot acquire a medical marijuana card, to utilize more products medicinally.

We here at New Approach Oregon want everyone to be safe and one of the biggest reasons to legalize marijuana is to improve public safety as our state can better prioritize resources on more serious crimes. Driving while impaired from any substance remains a crime in Oregon and the Clackamas County Sheriff's Office posted a bulletin yesterday that law enforcement officers will be conducting enhanced patrols following the sale of marijuana-infused products to all adults.

The bulletin makes some mistakes, such as stating that marijuana just started being sold commercially, but we agree that people shouldn't drive impaired and that we should all do all that we can to minimize traffic fatalities. We want to keep Oregon roads safe, keep people out of prison and continue to help demonstrate to voters across the nation and globe that cannabis can be legalized without the sky falling, as prohibitionists like to claim. So enjoy Oregon's fine cannabis products, but be responsible, don't drive impaired and don't let your friends drive impaired.

Sheriff's Office warns: Don't drive impaired while consuming marijuana –06/02/16

Today (June 2, 2016), marijuana will begin to be commercially sold in the State of Oregon. The Clackamas County Sheriff's Office would like to remind people to use marijuana in a responsible manner. Additionally, operating a vehicle after consuming marijuana in any fashion is just as dangerous and illegal as driving while drunk.

Marijuana is a substance that can adversely impair a person's ability to safely drive a motor vehicle and can contribute to crashes, often resulting in serious injuries and even death. Marijuana can impair the user for a period of up to 24 hours — so please plan ahead to have a sober driver or a place to stay the night.

During this upcoming weekend, the Clackamas County Sheriff's Office will be joining other law-enforcement agencies in providing enhanced patrols in order to ensure the continued safety of the citizens we serve. Between June 2 and June 5, deputies assigned to this DUII task force will have an emphasized focus on enforcing traffic safety laws, while also detecting and arresting impaired drivers.

The men and women with the Clackamas County Sheriff's Office would like to ask the public that if you or a loved one consumes marijuana, or any other intoxicating substance, please use a designated driver. Likewise, if you notice dangerous driving behaviors, please call 911.

Our goal is to have zero traffic fatalities in Clackamas County, and we wish everyone a happy and safe weekend.

Enjoy all of the new products available to adults over the age of 21, but use responsibly and never drive impaired.