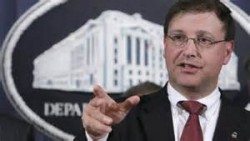 Yet again Barack Obama squanders an easy chance to accomplish desperately needed drug policy reform. His opportunity to replace ousted and disgraced DEA chief Michele Leonhart gave a chance for a fresh look at failed drug policies.
Instead, Obama disappoints yet again by choosing Chuck Rosenberg, an FBI agent and former US attorney, to stay the drug war course.
The continuity of the American drug war was clear in the words of prohibitionist prosecutor and now US Attorney General Loretta Lynch as she introduced the next DEA head. Seeming to miss the irony altogether of the recent tales of Colombian cartel sponsored sex parties for DEA agents, Lynch said. "I can think of no better individual to lead this storied agency." Those are some stories, alright.
But far worse than DEA agent debauchery has been the agency's self-serving cling to the harshest of drug policies for four long decades, with horrid consequences for the country.
With his background, there is little likelihood that Chuck Rosenberg will vary from the the agency's rejection of science and embrace of harsh drug policies. Sadly, the DEA administrator is one of the public officials who could reschedule or deschedule cannabis, a huge public need. No FBI agent or US attorney is going to challenge the draconian, cruel and idiotic Schedule I status where cannabis still languishes, legally harming Americans daily.
The sun is setting on the Obama presidency. With his drug-war-as-usual choices for Attorney General and now DEA administrator he again betrays those who once chanted, "yes we can." Instead he gives us, again, "just say no."