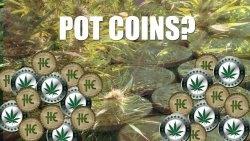 For those tilting their heads, not knowing what Marijuana Crypto coins are, it is possibly the one meme that can change the way cannabis businesses conduct business. You've probably hear of Bitcoin and perhaps Ethereum coins, but what about marijuana crypto coins? Imagine being able to pay for your legal pot with a crypto coin and all the privacy that brings?
It's no secret that the industry is being held down by draconian banking regulations that force cannabis businesses into a cash only ghetto. There has been lots of talk about how to get marijuana into the credit and fiat system with some pushing banking updates and others credit card to banking solutions, but up till now no real-world solutions and certainly no forward looking ones. Enter Marijuana crypto coins which are all vying to be the cannabis business dealing crypto coin. Some feel that the hurdle will still be to convert these coins into fiat (like US Dollar), but many others see it as a solution while others a number game and just the amount of Bitcoin ATMs in California should give rise to the notion of a successful movement of crypto to fiat.
So what are these non-fiat coins that we talk about? Here's a small guide for those wishing an entry into Marijuana crypto coins before 420 comes around and the expected rise in the coins' values to come.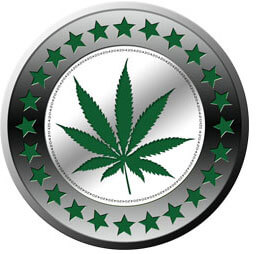 POT Coin – This Marijuana Crypto Coin which has been around since January 2014 is a favorite on one of the most popular Crypto Coin trading sites Poloniex. and even with the recent rise it is still considered to be heavily undervalued seeing as how it's still under 10 cents a coin.
DOPE Coin Gold – Possibly the most promising marijuana crypto coin in the filed with strong community support and a fervent base of support. Available on Bittrex, many dispensaries are using and are slated to add it. They've also gotten lots of main stream press.
HEMP Coin (THC) – available on Bittrex, another popular trading platform, THC has recently been showing some support for moving beyond its all time high and many consider it undervalued at under a penny.
CANNA Coin (CCN) – Available on Bittrex and Cryptopia
MARIJUANA Coin (MAR) – Available on Cyptopia, another smaller exchange with endless amounts of coins. Even as 420 approaches, this coin has not seen the movement expected and is charting at under 2 cents a coin.
CANNABIS Coin (CANN) – Available on Bittrex, Cryptopia and yobit
HEMP Coin (HMP) – Available on a smaller exchange Yobit, this coin has not quite taken off yet
*Please note, we do not endorse any coin and we are not responsible for any trades you may make. Like any other investment, you should look into the market and seek out professional advice before jumping in.