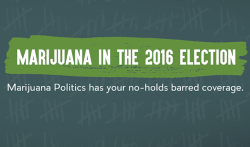 The 2016 election is shaping up to be a landmark year for the cannabis community, with more marijuana legalization measures passed in any one year, not to mention a the potential to elect a president willing to allow states to legalize "without restriction", at least support the ability of localities to be laboratories of democracy or adhere to a states' rights position. With polling looking more and more favorable across the nation, cannabis advocates are certainly feeling optimistic to adding to ending the arrest of hundreds of thousands of people and generating millions of dollars in new revue following the 2016 elections.
The top three states to legalize marijuana according to Marketwatch.com:
1. Massachusetts

Max. fine for small amount: $100
Marijuana related arrests in 2012: 2,596
Marijuana arrests per 100,000: 39
Minimum penalty classification: Civil offense
Under Massachusetts' state law, an individual can only be fined a maximum of $100 for possession an ounce or less of marijuana — the result of a 2008 ballot to decriminalize possession of small amounts of the drug. The impact of decriminalization has been dramatic. While there were more than 10,000 marijuana-related arrests in 2008, there was just about a third as many such arrests in 2009, the first year the law took effect. Though the state's marijuana policy is relatively progressive, it appears that decriminalization has not gone far enough for the majority of voters. In a poll released last year by the Boston Herald, 53% of state residents were in favor of legalizing marijuana, while only 37% were against. Proponents of legalization may have a chance to change the state law again in November 2016. Democratic State Representative Dave Rogers and Democratic State Senator Patricia Jehlen introduced a bill to legalize recreational marijuana use for adults.

2. Nevada

Max. fine for small amount: $600|
Marijuana related arrests in 2012: 8,524
Marijuana arrests per 100,000: 309
Minimum penalty classification: Misdemeanor
According to the Marijuana Policy Project, Nevada is one of 20 states to decriminalize possession of small amounts of marijuana. Though no one found in possession of under an ounce of the drug can face incarceration or felony charges, Nevada's penalties for possession are among the harshest of all the states that have decriminalized. Unlike some states that have decriminalized the small amounts of the drug, like Massachusetts and California, first time offenders in Nevada can still be charged with a misdemeanor and be compelled to undergo mandatory drug treatment. Despite the harsher penalties, next year Nevada could become the fifth state to legalize recreational use of drug. Voters will have a chance to pass the Initiative to Tax and Regulate Marijuana in November 2016. If passed, legalization will have a dramatic effect on arrest rates and police resources. As of 2012, there were about 8,500 marijuana-related arrests in Nevada, the 14th highest arrest rate in the country.

3. California

Max. fine for small amount: $100
Marijuana related arrests in 2012: 21,256
Marijuana arrests per 100,000: 56
Minimum penalty classification: Infraction
California was in the vanguard of state marijuana reforms in the 1970s and an early adopter of decriminalization. In 1996, the state passed the Compassionate Use Act, which permitted physician-recommended marijuana use for medical treatment. In 2010, Governor Arnold Schwarzenegger signed legislation that reclassified the crime of marijuana possession from a misdemeanor to an infraction. Despite the state's historically progressive stance, marijuana has yet to be legalized. In 2010, a motion to legalize failed by a slim margin. Two bills proposing marijuana regulation are now on the table, although the success of each remains to be seen. A great deal may be at stake in the success or failure of marijuana law reform in California. According to St. Pierre, because of the state's sheer size and influence, the viability of federal legislation largely relies on the precedent California might set.
Nevada should probably be #1 on the list since a legalization measure has already qualified for the 2016 ballot and Maine should likely be higher on the list, but Marketwatch.com has compiled a very thoughtful list. Rounding out the list: 4. New York; 5. Vermont; 6. Minnesota; 7. Connecticut; 8. Maryland; 9. Rhode Island; 10. Maine; and 11. Delaware. Arizona and Florida may be a couple of states next on the list as advocates have started making preparation for legalization efforts. Noticeably absent from the Marketwatch.com is Ohio, who has already qualified a (controversial) legalization measure on the 2015 ballot. Regardless of the order, cannabis law reform advocates are poised very well to continue the momentum for legalization that will eventually force elected officials to cannabis prohibition at the federal level.