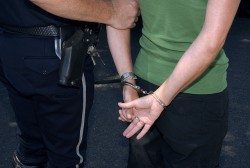 A marijuana user is being arrested every minute–more than a dozen will be taken to jail as I type this piece. This according to the Federal Bureau of Investigation which today released its annual Uniform Crime Report aggregating law enforcement data and tallying the nation's crimes and arrests in 2014. While murders, robberies, and burglaries dropped considerably, authorities across the country still apparently have an uncontrollable urge to arrest and prosecute nonviolent drug offenders.
2014 saw marijuana users arrested in record numbers–an estimated 700,993 were apprehended for marijuana-related offenses, up from 693,058 in 2013. Nearly 90% of those arrests were for simple possession. This means that one person was detained for a cannabis-related offense every 45 seconds in this country last year. Take those who were committing other crimes out of the equation and you get one person arrested every 51 seconds. Marijuana possession charges made up more than 5% of all arrests in America. Full stop.
In fact, more than a million and a half drug arrests were made in 2014, far surpassing the number of violent crimes, which the the FBI estimates at about 1.2 million.
This comes at a time of unprecedented support for marijuana legalization in the United States, and as states across the country look to repeal prohibitionist policies and allow legal, well-regulated, and lucrative marijuana sales within their borders.
In a statement today, Mason Tvert, Marijuana Policy Project's director of communications, scolded the nation's law enforcement:
"These numbers refute the myth that nobody actually gets arrested for using marijuana. It's hard to imagine why more people were arrested for marijuana possession when fewer people than ever believe it should be a crime. Law enforcement officials should not be wasting their time and resources arresting and prosecuting adults for using marijuana. While law enforcement was busy making nearly three quarters of a million marijuana arrests, more than 35% of murders went unsolved, the clearance rate for rape was less than 40%, and for robbery and property crimes, it was below 30%."
The Marijuana Majority's Tom Angell was just as blistering:
"It's unacceptable that police still put this many people in handcuffs for something that a growing majority of Americans think should be legal. There's just no good reason that so much police time and taxpayer money is spent punishing people for marijuana when so many murders, rapes and robberies go unsolved."
While this is unquestionably a civil liberties nightmare, the Washington Post's Wonk Blog notes that all of these arrests are, well, getting really expensive:
Marijuana arrests can be costly for states and for the people arrested. The American Civil Liberties Union estimates that the typical marijuana arrest, excluding any costs of adjudication or detainment, costs about $750. At 620,000 arrests, that means that states spent nearly half a billion dollars in 2014 just to arrest people for marijuana possession.
In warring with drugs for nearly 50 years, our nation has spent more than a trillion dollars, sent tens of millions through a justice system that ruins lives and tears apart families, and contributed to unspeakable violence, strife, and mass murder in nearby countries. Some of our leaders are coming to their senses, but it's apparent that the machine our government created has an insatiable appetite for more: More debt, more violence, more loss, more heartbreak. It's time to end this.
Photo Credit for Featured Image: Oregon Department of Transportation via flickr Creative Commons.