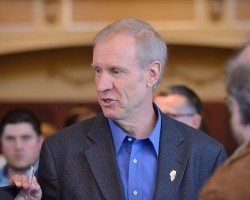 Illinois Republican Governor Bruce Rauner today took advantage of his state's unusual veto rules to amend a bill that would decriminalize the possession of small amounts of marijuana. The bill, HB 218, as proposed by Illinois lawmakers, would have made possession of up to 15 grams of marijuana a civil offense punishable by a $55-$125 fine. Rauner believes those changes are not "careful" or "incremental" enough and issued an amendatory veto, lowering the possession threshold to 10 grams and increasing the maximum fine to $200.
The amendatory veto–which is practiced in only seven U.S. states–allows a governor to make changes to a bill before signing, then send it back to the legislature for either confirmation or rejection. The Illinois General Assembly now has 15 days from the next session date to approve the amended bill and send it on to the House for an up or down vote. If the General Assembly does not accept the governor's proposed changes, the bill will fail and the state's drug war will be business as usual creating ruined lives via jail-time and large fines, according to the Chicago Tribune:
In an amendatory veto message to lawmakers, Rauner said he supported the "fundamental purposes" of the bill to keep people out of jail and limit the drain on court resources, but said such a significant change in drug laws "must be made carefully and incrementally."

The bill now returns to lawmakers, who can vote to go along with Rauner's changes or reject them. If lawmakers opt not to take up the changes, the bill dies. In the meantime, current law stands. That means someone caught with small amounts of marijuana faces fines of up to $2,500 and up to a year in a jail. Some Illinois cities, including Chicago, have their own ordinances decriminalizing possession of small amounts of marijuana.
Should the amended bill pass, Illinois will become the 21st state to either legalize or decriminalize the possession of marijuana. While the proposed changes have irked the bill's sponsors who, the Tribune notes, intentionally designed the bill "in line with the governor's goals," decriminalization advocates believe that even the new watered-down version is better than nothing. In addition to decriminalizing small amounts of cannabis, the bill would effectively put an end to the state's "zero tolerance" stoned-driving laws and extend the state's medical marijuana pilot program that launches later this year. In a statement today, Marijuana Policy Project's legislative analyst Chris Lindsey encouraged the General Assembly to approve the new deal:
"We hope the General Assembly will approve the amended bill and replace Illinois' needlessly draconian marijuana possession law with a more sensible policy. Nobody should face a lifelong criminal record and potential jail time for possessing a substance that is safer than alcohol. Serious criminal penalties should be reserved for people who commit serious crimes, not low-level marijuana offenses.

The governor's version is not preferable to the original bill, but it is still commonsense legislation. It will still prevent countless citizens from having their lives turned upside down by an arrest for simple marijuana possession. This is a major victory for [bill sponsor] Rep. Cassidy and the Assembly, and it is an important step forward for Illinois."
Photo Credit for Featured Image: JanetandPhil via flickr Creative Commons