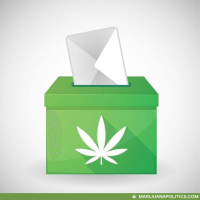 We just profiled Marketwatch.com's list of the next 11 states to legalize marijuana, noting that Arizona was another state that could potentially be in the next way of states, as a lot of media outlets seem to be discounting Arizona. Many were very skeptical about the conservative state passing medical, but medical marijuana activists narrowly pulled out a victory with 50.1% of the vote in 2010. Coincidentally, we very quickly received a press release from the Campaign to Regulate Marijuana Like Alcohol in Arizona, proclaiming that they were on pace to place legalization on the ballot in 2016.
While Arizona will likely be a hard-fought electoral battle, the fact that Arizona voters have seen the success of legalization in a few states already, coupled with the greater turnout in a 2016 presidential election, a path to victory could very well be there for Arizona advocates. You can support this effort by donating or signing up with the campaign.
Contact: Barrett Marson, Communications Director

602-743-4120, barrett@marsonmedia.com

Campaign to Regulate Marijuana Like Alcohol in Arizona Reaches Petitioning Milestone — 75,000 Signatures

Initiative backers are one-third of the way to their goal of 230,000 total signatures; just over 150,000 valid signatures are needed to qualify for the ballot

PHOENIX — Backers of an initiative to regulate and tax marijuana like alcohol in Arizona announced Thursday that their petition drive has surpassed the 75,000-signature mark and is one-third of the way to its goal of 230,000 total signatures.

The Campaign to Regulate Marijuana Like Alcohol launched its petition drive in May and needs 150,642 valid signatures of registered Arizona voters to qualify for the November 2016 ballot.

"We're finding that more than one out of every two registered voters we ask to sign is happy to do it, so that's a good sign," said campaign chairman J.P. Holyoak. "People recognize that marijuana prohibition has been just as big of a mess as alcohol prohibition was 80 years ago. It's time for a more sensible approach."

The proposed initiative would allow adults 21 and older to possess limited amounts of marijuana; establish a system in which marijuana is regulated similarly to alcohol; and enact a 15 percent tax on retail marijuana sales, from which a majority of the revenue would be directed to Arizona schools and public education programs.

"Most voters seem to recognize that marijuana is less harmful than alcohol and that we'd be better off if we started treating it that way," Holyoak said. "It makes little sense to criminalize adults for choosing to use a product that is safer than one you can currently buy in a grocery store. Regulating and taxing marijuana like alcohol just makes sense."

# # #

The Campaign to Regulate Marijuana Like Alcohol is supporting a 2016 statewide ballot initiative to end marijuana prohibition in Arizona and replace it with a system in which marijuana is regulated and taxed similarly to alcohol. For more information, visit http://www.RegulateMarijuanaAZ.org.