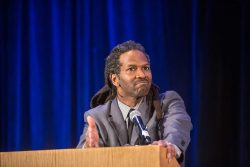 Dr. Carl Hart is a neuropsychopharamacologist at Columbia University, where he conducts research and serves as a professor for both undergraduate and graduate students in neuroscience, psychology, and pharmacology. The first tenured African-American professor at Columbia University, Dr. Hart has dedicated his life to reducing public health harms. He serves as a board member of the Drug Policy Alliance and is one of the best advocates for ending the failed and harmful policy of prohibition.
As a researcher, Dr. Hart has studied the impact of drugs and has done great work destroying Drug War myths that have stigmatized users and helped implement harmful policies that disproportionately hurt black communities. I was first inspired to become an advocate for cannabis law reform after seeing my black friends treated more harshly for minor marijuana offenses and statistics back up Dr. Hart, so I completely agree with his worldview. I was fortunate enough to speak with Professor Hart for a few minutes less than a week before he delivers the keynote address at the Oregon Marijuana Business Conference (OMBC) on April 24th.
After studying the impact of drugs, he has come to the conclusion that prohibition does more harm than good, "I'm most concerned about people's health and the most dangerous concern are the adulterants and the only way to address the adulterants is to legalize the market," Dr. Hart explained to me.
The role of people of color in the cannabis industry is an important subject as the War on Drugs has left many unable to enter the market due to previous drug offenses. When I asked Dr. Hart what are some of the things he would like to see the emerging cannabis industry do to assist communities of color, he stated, "One of the things that we can do is highlight the inconsistencies that legalized states are doing with what is happening with marijuana arrests around the country. Marijuana is still the number one reason for drug arrests. The country is still in the mindset that it is still a dangerous drug. No one is saying that it is innocuous, as driving a car can be dangerous, but it isn't so dangerous that its prohibition should ruin lives."
"Out West we are having legal marijuana, but in other parts of the country, we are seeing marijuana implicated in tragic cases like
Sandra Bland
.
Ramarley Graham
was shot in the Bronx because cops thought that he was selling marijuana. The Graham killing was right before Trayvon Martin, yet another example where marijuana was blamed as George Zimmerman claimed that it made
Trayvon Martin
aggressive."
I believe that my talk with Dr. Hart was the first that I had heard of Ramarley Graham and I cover civil liberties issues for a living. It is so tragic that there are so many unnecessary deaths like Graham's, Bland's and Martin's.
Dr. Hart continued, "The industry should advocate for sensible laws across the nation, help people of color be involved, and call on other industries to do the same thing, to follow our lead. We become morally bankrupt if we don't stand up for the underdog and say, 'Not in our country. This shit is wrong. We are respectable people and police shouldn't be giving carte blanche to perpetuate these brutalities.' By leading by example the cannabis industry can help improve laws across the country."
Anyone that spends a few minutes listening to Dr. Carl Hart will come across impressed as the man knows the science and is passionate about using his knowledge for positive reform. You can learn more about Carl Hart on his website and if you can make it to the Eugene Hilton for the Oregon Marijuana Business Conference on April 24th, you will not be disappointed by him or the informative program lined-up. (Not often you get to kick-off an event with Dr. Carl Hart and close with Tommy Chong!)
Check out Dr. Carl Hart debating cannabis with Bill O'Reilly. Dr. Hart comes on at 3:57.