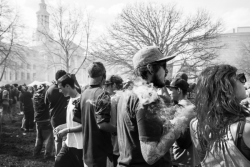 After a ton of negative publicity and widespread anger around the handling of its last-minute "postponement" last Saturday, the organizers of Denver's annual 420 Rally have finally reversed course and are now processing refunds to those who paid as much as $150 to attend the snowed-out event.
In an email to attendees who signed up via the event-organizing platform Eventbrite, the organizers stopped short of apologizing, but explained, somewhat patronizingly, that "sometimes things don't work out your way, often for reasons outside of your control, but that's life and we're going to make the most of it."
Here's a screencap: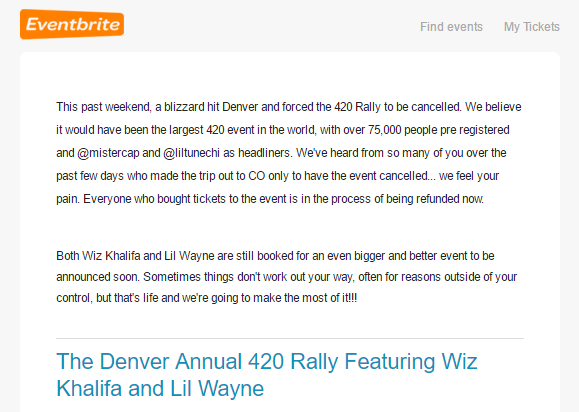 In what has been a pattern of bold statements followed by baby step backtracking, the organizers of what is billed as the largest 420 rally in the world have taken a serious hit this week. First, after laughing off a week-long forecast that called for upwards of a foot of snow and blizzard-like conditions in the Denver area on Saturday, and promising–even after the snow was accumulating that morning–that the show would go on, they canceled less than an hour before it was to begin. This of course angered vendors and a good chunk of the more than 75,000 attendees who had pre-registered, many of whom were from out of state and had paid thousands of dollars in transportation and lodging expenses.
Then they announced they would not be refunding tickets. While the event is technically free, attendees were encouraged to spend $50-$150 on "premier viewing access" tickets, and everybody was encouraged to pre-register online. We documented the resulting anger right here.
Now the organizers are planning on rescheduling to a bigger arena. In a "behind the scenes look" granted to Denver's local ABC affiliate, "Those in charge of Denver's 4/20 celebration met in a downtown law office Sunday to toke up over some cookies and coffee and plan the next big thing." It's all pie-in-the-sky stream-of-consciousness type stuff:
Determined not to let a little snow steal the show, Denver 4/20 organizers are now hashing out a plan for an even bigger celebration in June or July.

They also have high hopes of moving the event from Civic Center Park and hosting the mega smoke-out at a huge venue

"Who knows," said Robert Corry, attorney for the Denver 4/20 rally. "Maybe Red Rocks, Sports Authority Field, Coors Field, Fidler's Green, Infinity Park, Dick's Sporting Goods Park."
Think what you will of these guys trying to book a summer show at Red Rocks or Mile High at this juncture, but at least you'll be getting your refund.
Featured image © Fara Paige. Used with permission.