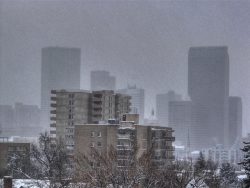 Despite a lot of brave talk, it appears that the organizers of this year's 420 Rally in Denver have finally caved to reality. With blizzard-like conditions cancelling hundreds of flights and threatening to dump up to 14 inches of snow in the metro area, organizers claimed in a Facebook post that Denver's Civic Center Park (where the event was to take place) has closed and that the event, which attracted 125,000 attendees last year, "will be rescheduled due to weather and circumstances beyond our control."
Rappers Wiz Khalifa and Lil Wayne were scheduled to perform.
Earlier this week, Miguel Lopez, the event organizer, told the Denver Post that nothing short of a natural disaster would stop the event: "There's no reason to stop except for a natural disaster. Maybe all the people publicly consuming marijuana will keep us warm."
In a press release sent out on April 12th, when all forecasts called for the snow Denver is seeing today, Lopez encouraged attendees to arrive "several hours" early because "there's a very real chance Civic Center Park will reach capacity before noon."
While the official cancellation press release says that details for the new event will be announced in "the near future," the Post's Katy Canada says that more details will come by this Tuesday:
Organizers say the new date will be announced by Tuesday.

— Katy Canada (@KatySusanna) April 16, 2016
Organizers also posted a message to Facebook that has since been removed. Will update the situation as needed.
No news yet as to exactly when or how the event will be rescheduled, but you can expect a lot of frustrated pot tourists to be desperately searching for a place to smoke all that weed they've been buying, thanks to Colorado's rules that restrict consumption everywhere except private residences.
We'll keep you posted. In the meantime, organizers encourage folks to check www.420Rally.com for further information.
Featured Image Credit: Vaquero Cooper via flickr Creative Commons