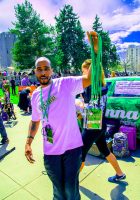 After promising all week that the show would go on despite warnings that the Denver area would see more than a foot of snow amid blizzard-like conditions, the organizers of Denver's huge 420 rally announced at the last minute that the event was indefinitely postponed. To add insult to injury, event organizers are now saying that tickets won't be refunded. Needless to say, people are pissed. The event was scheduled to begin at 10:00 this morning and the cancellation announcement was made at 9:18 AM, less than an hour prior:
For Immediate Release
420 RALLY RESCHEDULE
April 16, 2016. Today, the Denver 420 Rally leadership team announced… https://t.co/iOZQM7MMRS

— denver 420 rally (@denver420rally) April 16, 2016
While the event is free, participants were encouraged to splurge on "Limited Premier Viewing Access" and "Premier Viewing Access" tickets that ranged from $50-150 dollars. These costs, on top of travel arrangements made by out-of-state visitors who spend a ton of money in Colorado during the 420 holiday, are adding to frustration that is pouring over on social media, with folks complaining about broken promises and ruined travel plans.
Here's an example of why many are so frustrated: Just yesterday, event organizer Miguel Lopez was saying it would take "a natural disaster" to cancel the event. Meanwhile, the official event Twitter page was posting statuses like this:
This is Colorado. A Lil snow never stopped the Xmas parades why would we cancel.

— denver 420 rally (@denver420rally) April 15, 2016
And, of course, Twitter responded:
420 rally canceled.. FUUUUUUCK IM MAD. 6 HOUR DRIVE FOR FUCKN NOTHING

— PartTimeKiller (@ptk2k) April 16, 2016
yo snow wasn't gonna stop us, why'd it stop you!!!!! #420 #denver #416on420 @LilTunechi @wizkhalifa

— olivia trezevant (@oliviatrez) April 16, 2016
Damnnnnn the #420rally is cancelled because of snow … Rough

— BoobsNBuds (@BoobsNBuds) April 16, 2016
In a Facebook post that has since been removed, organizers claimed that Civic Center Park, where the event was to be held, had been shut down due to the weather. We have not been able to independently confirm that this is the case. While Denver's city government has yet to respond with comment, Denver Police replied with a tweet stating that we'd have to reach out to event organizers for information, implying that the city was not involved in this decision-making process at all:
@AlibiPierce – For additional info on this closure, you'll need to check with even organizers.

— Denver Police Dept. (@DenverPolice) April 16, 2016
We were, however, able to capture some of the comments on the post before the organizers took it down, and they weren't pretty. Some enterprising bars and dispensaries took the opportunity to promote previously scheduled events, but comments were overwhelmingly negative and angry: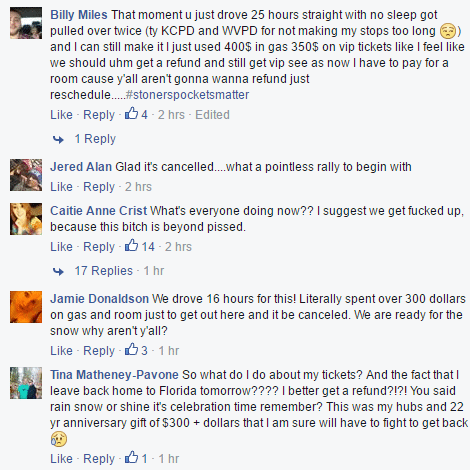 Anecdotal evidence in the form of interviews with the Denver Post indicate that visitors and vendors are furious:
Lopez now says the decision to reschedule is a blessing in disguise because visitors, some of whom paid upwards of $150 to get close to headlining performers Wiz Khalifa and Lil Wayne , can return on a nicer day for a "bigger and better show."

But some people who traveled from out of state don't see it that way.

"We had to take off from work, and then it was a four-hour flight to get here," said Breanna Duffee, from Gainsville, Georgia. "I packed my parka and snowboots. I was pumped."

The featured musicians are still set to perform when the rally is rescheduled, Lopez said.

He was adament that Saturday's turn of events would not affect turnout, noting that if people who made the trip can't honor their tickets, that's another factor that's "beyond our control."

Danielle Lord drove from Wyoming with her two sons, John Lord and Bryce Amedees, to see Wiz Khalifa. She paid $150 per ticket for front-row access and backstage passes.

"I'm not going to be able to come back when they reschedule," Lord said. "I feel like it should go on."

James Terpening,one of roughly 250 vendors at the rally, felt the same way. The Michigan-based marijuana grower said he was concerned that bad weather might threaten the rally, but he made the 18-hour drive anyway.
This writer, for one, is disappointed that the event was canceled. The weather is pretty terrible, but perhaps it would have been better for the organizers to be a little more realistic about the whole thing. A little less bluster would have gone a long way.
Featured Image © Fara Paige. Used with permission.