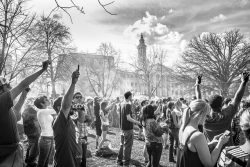 The Denver 420 Rally has officially been rescheduled.
After a disastrous 420 holiday weekend that saw a canceled event made worse by broken promises and horrible PR in the midst of blizzard-like conditions, it seems that the organizers of the rally were able to pull it together: Headliners Wiz Khalifa and Lil Wayne will be back in Denver on Saturday, May 21.
In an announcement sent out via Eventbrite, the "420 Rally Team" even offered their first apology:
Hello!

We're excited to share that the 420 Rally has been rescheduled for Saturday, May 21, 2016 and will be headlined by Wiz Khalifa and Lil Wayne! The event will still take place at Civic Center Park in Downtown Denver. Additional information is available at www.420Rally.com.

We greatly apologize for any inconvenience the rescheduling caused – event organizers would not have postponed this event if it wasn't absolutely necessary.

Your tickets have been automatically rolled over and will be valid for entry on May 21st. If you are unable to attend the new date, you may request a refund by emailing your order number to 420Rally@MassRoots.com.

We're looking forward to seeing you at an even bigger and better festival on Saturday, May 21, 2016!!!
As we reported last week, the rally's head honchos had gathered in a made-for-TV "private meeting" to discuss how exactly they would tackle the rescheduling, gaining headlines for considering venues like Red Rocks and Mile High Stadium for a summer re-do, both of which would be near impossible to book for a summer show this late in the 2016 game.
Looks like it was, as I suspected, "pie-in-the-sky type stuff." Civic Center Park it is. May 21. Honestly, it's gonna be a good time.
Here's a quick recap of exactly what went down, in case you missed it:
In what has been a pattern of bold statements followed by baby step backtracking, the organizers of what is billed as the largest 420 rally in the world have taken a serious hit this week. First, after laughing off a week-long forecast that called for upwards of a foot of snow and blizzard-like conditions in the Denver area on Saturday, and promising–even after the snow was accumulating that morning–that the show would go on, they canceled less than an hour before it was to begin. This of course angered vendors and a good chunk of the more than 75,000 attendees who had pre-registered, many of whom were from out of state and had paid thousands of dollars in transportation and lodging expenses.

Then they announced they would not be refunding tickets. While the event is technically free, attendees were encouraged to spend $50-$150 on "premier viewing access" tickets, and everybody was encouraged to pre-register online. We documented the resulting anger right here.
Image © Fara Paige. Used with permission.