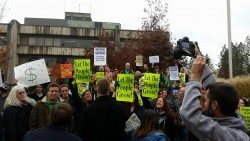 Update: Thanks to the cannabis community rallying together, the Medford City Council voted to table the vote on banning personal marijuana cultivation indefinitely. Council members may look into putting the issue to a vote of the people. Stay tuned to Marijuana Politics for updates.
It is great to see firsthand how the cannabis community has rallied to fight a ban on personal marijuana cultivation in Medford, Oregon. Contrary to state law, a majority of city council members have already voted once to ban all indoor and outdoor cannabis gardens, setting up the mandatory second vote to pass the ordinance. Local patients and advocates braved a rather rainy day to hold a press conference before Medford City Hall and crowd into a packed chamber for the possible second vote.
The press conference was organized by Marijuana Politics and OMBC founder Alex Rogers as well as our blogger, Anthony Johnson, director of New Approach Oregon. Rogers and Johnson expressed their desire to protect the rights of patients' and the will of Oregon's voters by fighting the ban. Medford patient Mandy Valencia passionately spoke about her need for a medical cannabis garden and the plight that patients will face if they are denied safe access to their medicine.
As the Mail Tribune reports, there are 1,942 medical gardens registered in Medford:
A possible city ban on indoor and outdoor pot gardens would shut down 1,942 state-licensed medical marijuana growers in Medford.

Statistics provided by the Oregon Public Health Division indicate that almost one-third of the 6,070 licensed cannabis growers in Jackson County have a Medford ZIP code.

"I don't think the city has the right to do this," said James Carpenter, who has had a medical marijuana card since 1999 and has grown at his south Medford home for 12 years. He pays the state $350 a year for the license to grow his plants, which help him deal with several debilitating conditions.
House Bill 3400, recently passed by the Oregon Legislature, allows cities and counties to ban commercial marijuana businesses, either through a city council vote or voter referendum. Under HB 3400, Medford would be required to place any ban on commercial licenses before voters in a general election since the county supported legalization with more than 45% of the vote. House Bill 3400, however, doesn't even give localities the ability to ban personal gardens. As Marijuana Politics' blogger Russ Belville reported:
The ability to ban, as decided by the voters and the legislature, applies then to just the commercial marijuana world, from grow to sale, not to the personal four plants allowed for all adults and the medical six plants allowed for medical marijuana cardholders.

Even then, since Jackson County didn't oppose Measure 91 by 55 percent, as per the West Idaho Compromise, they would have to refer any commercial marijuana bans to the voters at the next general election.

But the City of Medford isn't concerned with state law. They are basing their right to ban on the twin pillars of local home rule and the federal prohibition on marijuana.

"The ability to ban grows is pre-empted by state law," says Portland marijuana attorney Leland Berger.
Concerned citizens in Medford packed the city council chambers to the brim. Due to fire code regulations, the city had to institute a "one in, one out" policy that you would experience at some hot nightclub. The council postponed the vote and will hear more testimony at 7pm tonight at 411 W. 9th, #310, so advocates in the area can once again show their support. You can also call the council at 541-774-2000 or email them at council@ci.medford.or.us. Please be respectful of the council members if you testify and let the elected officials know that we aren't just talking about 1,942 gardens, we are discussing the lives of sick and disabled patients who depend upon access to medical cannabis.