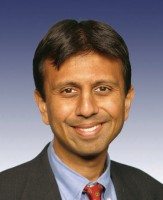 In yet another example of marijuana law reform going mainstream, conservative Republican Governor Bobby Jindal has stated that he will sign measures to improve Louisiana's marijuana laws if they make it to his desk. Not that long ago, cannabis law reform seemed to be a liberal progressive issue, but more and more conservatives seem to have seen the light. Today, it seems like marijuana law reform is one of the few bipartisan issues that Democrats and Republicans can agree upon.
From The Times-Picayune:
There are three bills moving through the state legislature affecting Louisiana's marijuana laws. Two of them (SB 241) and (HB 149), which are nearly identical, would reduce the tough sentences judges are allowed to hand down for repeat marijuana offenses; reduce a second marijuana offense from felony to misdemeanor; and allow first-time convictions for simple possession to be erased after two years.

The bills also set up a simple possession charge for smaller amounts of marijuana and more serious charges that can be brought for larger amounts of marijuana that drug dealers and distributors typically possess.

The third bill sets up a framework for patients in need of medical marijuana treatment to be able to get the drug if a doctor prescribes it.
There are many reasons to support cannabis law reform. Some issues conservatives can certainly agree upon, others liberal and many all political persuasions can support. Sensibly and incrementally reducing marijuana penalties has been estimated to save Louisiana taxpayers $16 million. Saving millions of dollars seems to be a political position that all can support and is understandably sweeping the nation in city after city, state after state.