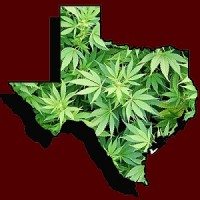 Marijuana moves mainstream in Texas!?! In Texas?!? Are we really talking about Texas? Yes, we certainly are talking about Texas and when Tea Party politicians in the Lone Star State are advocating for an end to cannabis prohibition, you know that marijuana has gone mainstream and legalization is completely inevitable. Although legalization is inevitable, there is still a lot of work left to be done in Texas and across the country, so this isn't the time for cannabis law reform advocates to let off the pedal.
Now is the time to work harder than ever before because the political establishment and prohibitionists across the country aren't letting up–they will continue to pull out all the stops to maintain their Reefer Madness policies. However, it is important for advocates to celebrate all victories, large and small, so it is nice to see a Texas State House committee vote to approve a measure to end cannabis prohibition, even though the bill is unlikely to pass through the entire Texas Legislature. The Dallas Morning News reports:
A House committee voted to approve a proposal Wednesday that would remove all mention of marijuana from criminal statutes. The measure by conservative Rep. David Simpson, R-Longview, is the first of its kind in Texas, and many are surprised by its progress.

When Simpson filed the bill in March, he said "God did not make a mistake when he made marijuana that the government needs to fix."

Pot backers called the vote an "important step" to eventually ending marijuana prohibition. The approved measure was amended to make it a Class C misdemeanor to sell marijuana to minors.
Texas, without an initiative process, will likely take a while to legalize cannabis, but this bi-partisan committee vote demonstrates that marijuana has gone mainstream as a political issue in Texas and we should see more and more legislators agree that cannabis prohibition has been a harmful disaster. Alaska broke the mold and passed legalization via an initiative as the conservative state with a libertarian bent became the first "red" state to legalize marijuana. Florida's medical marijuana ballot measure, garnering 58% of the vote, just 2% shy of victory in the Sunshine State and Arkansas' 2012 medical marijuana's initiative barely lost at the ballot box, securing 49% of the vote. Ohio is looking to legalize marijuana in 2015 or 2016 and my birth state of Missouri is on the short list of 2016 states as well, so marijuana could be moving more into the mainstream in the Midwest very soon.
With cannabis icon Willie Nelson; Super Bowl winner and Pro Bowler Mark Stepnoski; Brian Cuban, the brother of Dallas Mavericks' owner Mark Cuban; and University of Texas Heisman Trophy winner Ricky Williams are all prominent cannabis law reformers with Texas ties and such prominent voices, joined by Texas Tea Party conservative David Simpson will only advance the cause for cannabis freedom in the Lone Star State. Heck, even former Texas Governor Rick Perry has signaled support for decriminalization and stated that states should make their own decisions on marijuana. Also, Dallas/Fort Worth NORML is one of the top local marijuana law reform groups in the country. Once seen as potentially on the short list of the last states that would legalize marijuana, it is great to see Texas helping move marijuana more and more into the mainstream.