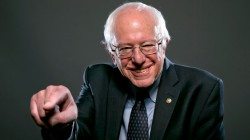 Despite winning the New Hampshire primary against Barack Obama in 2008, Democratic frontrunner Hillary Clinton has had a hard time overtaking the anti-establishment Bernie Sanders in his neighboring state. Buoyed by huge leads with young voters and independents, Senator Sanders is up by 20% in the NBC/WSJ/Marist poll and 31% in the CNN/WMUR survey just ahead of their first head-to-head debate.
In New Hampshire, Senator Sanders is ahead among all age groups and demographics, except for voters age 60 years and over. The Vermont Senator's lead is based upon his massive support from voters under the age of 45, securing more than 70% of those vote. He also leads the former Secretary of State 57%–38% with voters 45 to 59 while the former First Lady carries voters over age sixty 51% to 44%. This tremendous support among younger New Hampshire voters falls on the heels of Senator Sanders 70% victory over Clinton among Iowa caucus goers under the age of 30. It will be interesting to see just how big the underdog candidate pushes that youth advantage when all votes are counted on Monday.
Younger voters historically have been the least-likely age group to turn out to vote while the oldest voters are the most dependable. Younger voters, who disproportionately feel the brunt of the Drug War, are going to continue being drawn to Bernie Sanders' platform on marijuana legalization and criminal justice reform. While drug policy isn't the only difference between the candidates, it is certainly an area where there is a difference between the candidates as Sanders' position is progressive, while Clinton's is pragmatic and incremental.
It will be interesting to see whether Hillary Clinton "evolves" a bit to co-opt Bernie's marijuana position, which would be good policy and good politics. An evolution on cannabis and criminal justice may be a political necessity if Sanders continues to enjoy such big margins with younger voters, and if African-American voters, also disproportionately decimated by the War on Drugs, start trending more towards Senator Sanders.
Featured Photo Credit: Jacquelyn Martin/AP