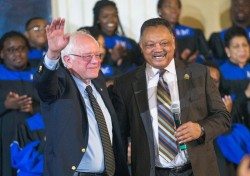 The most recent polls continue to show momentum for Bernie Sanders as Super Tuesday 2 approaches. Following the huge (YUGE) upset in the Michigan Primary, where Sanders was trailing Hillary Clinton by more than 20 points in most polls, Bernie appears within striking distance in Missouri, Ohio and Illinois, with a CBS/YouGov poll actually showing Sanders up 2% in Illinois, Hillary Clinton's birth-state. While he still trails by over 20% in both North Carolina and Florida, there are signs that Sanders is closing the gap, just as he did in Michigan.
While the cannabis community has largely rallied behind Bernie Sanders' campaign, thanks to his call to end cannabis prohibition and other criminal justice reforms, but the largest marijuana law reform PACs mostly saving their resources for state ballot measures. Without big donors, in the cannabis industry, or really any industry for that matter, Bernie Sanders relies upon small contributions to keep up with the large establishment financial backing enjoyed by Hillary Clinton.
My wife and I have pitched in more than we have for any candidate before and some local Portland cannabis entrepreneurs have found unique ways to support Sanders' candidacy. As our Carl Wellstone experienced first-hand, Foster Buds dispensary is providing 10% of proceeds from pre-rolled joint sales to Sanders and apparently, business is good as cannabis consumers are flocking to the shop to #FeelTheBern. Ceramics artist Ariel Zimm has been widely successful selling pipes adorned with Bernie Sanders' logo and sending 10% to his campaign. Zimm has been so successful, that she has maxed out her $2,700 allowable personal donation to Sanders her Stonedware company has a backlog until June on the pipes.
Ending cannabis prohibition, as Sanders supporters, would greatly benefit the cannabis community and industry across the nation, in addition to being a better policy for the rest of the country. Illinois has a fledgling medical cannabis program while Ohio, Missouri and Florida hope to join the ranks of medical states this November. A Sanders presidency is still a possibility, and while it is, the cannabis community, drug law reformers and civil libertarians in general, should contribute as much as they can.
(Featured photo by Scott Olson/Getty Images)