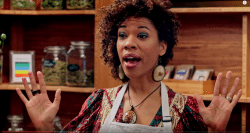 The Benefits of Gusbandry has been garnering some well-deserved praise recently as the Portland-based web series, featuring local acting and musical talent, is hilarious, fearless and provocative. A very adult comedy, the series features the protagonist Jackie, played by Totman (of MADtv fame), as she turns 40 and fosters a close relationship with River, a gay man who becomes her "gay husband," or "gusband," following a breakup. As Jackie navigates getting back into the dating world, River and cannabis are her constant companions. I cannot recommend this series enough. You can view all of 6 episodes on YouTube. I was honored to have a brief cameo with my wife Sarah Duff that included our stop into the Panacea dispensary in Portland. We are friends with creator Alicia Rose and lead actor Kurt Conroyd, so you may consider me biased, so you don't have to take my word for it as The New York Times called the series a "delirious 16-minute masterpiece":
The Benefits of Gusbandry This series by Alicia J. Rose, which has just posted its first-season finale (the sixth episode), works the straight-gay friendship thing deliciously, thanks to sharp writing and spirited performances by Brooke Totman and Kurt Conroyd. She's Jackie, a world-weary straight woman in Oregon who has just turned 40, isn't happy about it and tends to escape her discontent with marijuana, newly legalized. He's River, who is gay, unattached and in the same age bracket.

They meet in Episode 1 and soon bond, helping each other through various crises and explorations. This dynamic — straight character with a gay BFF — has been around a while, but this rendition (like the one in Hulu's caustic"Difficult People") is more catty and crass than anything on network television, which gives the series a sharp edge. River is something of a stereotype, but that stereotype is one of Ms. Rose's targets, along with pompous artists, weed aficionados, self-denigrating 40-somethings and gusbandry itself. The season finale is a delirious 16-minute masterpiece of pretension-puncturing.
Please check out this amazingly hilarious comedy that is raunchy, but realistically true to our modern scene. You will not be disappointed in a series that some have compared to "Broad City." Hopefully, you'll laugh as hard as I have and we'll see more and more from these talented folks in future seasons of a show that, in my humble opinion, is more Portland than "Portlandia."
The newly released "Benefits of Gusbandry" finale: