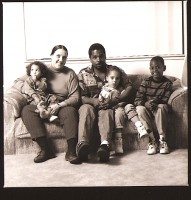 There are many reasons to support marijuana legalization. Some are interested in social justice, others in the economics and additional tax revenue that can be generated. New jobs can be exciting jobs to many people, especially during tough economic times. Why do I support marijuana legalization? For me it's personal. It's about family, and equal treatment. When New Approach Oregon kicked off the Vote Yes on 91 campaign, I was honored to talk about my personal history with marijuana prohibition. Below is my statement that was published in the Skanner:
Small-time marijuana arrests have big-time consequences

Our current approach to dealing with marijuana in Oregon is failing us. Nowhere is it more apparent than in our communities of color.

African-Americans are more than twice as likely as whites to be arrested for marijuana possession in this state. It's not because one race uses marijuana more than the other. It's because of special scrutiny from police engaged in the war on drugs.

Growing up in a bi-racial family, I've seen both worlds firsthand. My mother, a white middle-aged woman, was never stopped or searched by the police. My father and brother, both African-American men, were stopped regularly. The excuses were always the same. "It looks like your taillight is out," or "We got a complaint from the neighbors that there was a suspicious person in the neighborhood."

One time my brother was stopped and searched, as he had been many times throughout his life. Unfortunately he had a tiny amount of marijuana on him, no more dangerous than a six-pack of beer. He was charged with basic possession. Yet, he spent three months in jail for a misdemeanor charge that was supposed to be a ticket. The run-in cost him his career. After dedicating himself for years writing government contracts, he lost his job.

My brother's story is like too many others. A conviction for possessing a small amount of marijuana follows you when you apply for a job, or a loan, or try to secure housing. It pops up on every background check.

Although black and white Oregonians use marijuana at the same rate, in some communities in Oregon, blacks are arrested for marijuana possession at more than three times the rate of whites. If you can believe it, the rate nationwide is even worse, 3.73 times. These arrests, for something which should not be considered a crime, are doing irreparable damage to the economic future of a generation of young black people.

Arrests for possessing a small amount of marijuana feed into a larger rift between communities of color and the police. Regulating pot to sell in reputable establishments, making it available to otherwise law-abiding citizens, and removing the stigma of these arrests can go a long way in healing that mistrust.

That's why I am working to win a new approach to marijuana. In fewer than 100 days, Oregonians will have the opportunity to vote yes on Measure 91 to tax, regulate and legalize marijuana.

A victory would be more than simply winning sensible drug policies. It will deal a big blow to the illegal drug trade and violent drug cartels, and the tax money raised will go in part to schools. It will raise money to care for those suffering from dependency of more harmful drugs.

When the War On Drugs began more than 40 years ago, only 12 percent of Americans supported regulating, taxing and legalizing marijuana. Now poll after poll shows growing support for this common-sense treatment.

This is an overdue conversation, and it is important that we are heard now. It is time for a new approach, Oregon.
It was great that Measure 91 had a resounding victory with 57 percent of voters declaring that marijuana prohibition has failed. We still, however, have a lot of work to do. Racial disparities in the number of drug arrests, including in states that have legalized marijuana, have not gone away. It is important that we remain a part of the conversation and make sure that our voices continue to be heard.