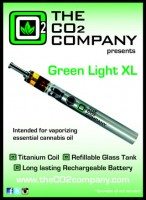 While working my first assignment for Marijuana Politics at the International Cannabis Business Conference, I was tasked with conducting a few interviews. One of the interviews I had the pleasure of conducting was with Karen Sprague and David Tanksely of the CO2 Company. The CO2 Company is a Southern Oregon extracts company making an exceptional product while never forgetting that the purpose of the Oregon Medical Marijuana Program is to care for patients first and foremost. In addition to being major sponsors of the ICBC, they are also sponsoring the upcoming Oregon Medical Marijuana Business Conference (OMMBC) in Eugene March 15-16th. If you can make it to the OMMBC, you should certainly check out their booth and products.
Pioneers in the field, the CO2 Company is revolutionizing the way patients receive care. Karen Sprague and her husband David Tanksely founded the company out of Rogue Valley, Oregon in July of last year. Working together with brothers Ryan and Kevin Walsh, they offer half gram CBD and THC cartridges of pure CO2 oil, along with CBD and THC drippers of the highest quality. What makes their products different from others are their combined efforts to keep it affordable, accessible, and about the community. They are currently working with around thirteen local farmers, as well as growing themselves, and their low-income, in-need patients have never paid a dime. Moreover, their concern is not only about the product but the process.
They do their best to keep it sun grown and clean. As a result, they produce some of the purest CO2 on the market, and keep their carbon foot print low. In addition to quality, they are helping conduct much-needed research. Working with some of the top scientists in the field, they are currently engineering a cannabis powder pill for patients. And for all of you who love their pens, they are also coming out with a new and similar product. This new product is an all-glass tank with a titanium cool, called the XL Green Light Vapor Pen. True to their claims, it offers an "optimal oil experience", and can be directly plugged in for charging. For fifty dollars, it could be yours.
Check out the CO2 Company's website, on Twitter, on Instagram or their booth at the OMMBC for more information.