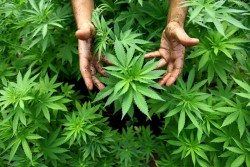 Democrats for both Bernie Sanders and Hillary Clinton met Saturday, March 12th for the Calhoun County Convention. The result of the convention was two delegates for each presidential candidate to advance onto the state convention.
The Calhoun County Democratic Convention also did a fun activity called platforming. It is where Democrats throw ideas for legislation into the ring to be hashed out and carried on to the next convention. They call the proposed legislation 'resolutions'. What should interest many in the cannabis community are the resolutions that involve medical and personal cannabis.
The resolution stated as follows, "We support the elimination of both federal and state control of Cannabis and support the growing and manufacture for medical and industrial use", and "We support the elimination of both federal and state control of cannabis and support the growing and manufacture for personal use".
What is significant about personal use is that it allows a person who feels they know their body more than a doctor to grow it for their own personal medical use; as stated by three delegates who were present at the convention.
The resolution was voted on by the approximately 25 voters present, who represented a wide group of age groups. This group of convention voters included included Democrats from both Bernie's side as well as Hillary's. It was reported to me that there were only 3 votes opposed, all coming from Hillary supporters.
The support of 22 out of 25 voters, blows past 90% of support. This, along with many other powerful resolutions, advance to the next Democratic convention in Webster County on Saturday, March 19, where Democrats will convene in Ft. Dodge.
If you have questions, wisdom to share, or suggestions, you are invited to the convention. Location to be determined. The writer of this story will post it to the comments.