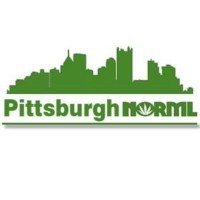 Marijuana law reform is sweeping the nation as more elected officials, policymakers and voters learn about the benefits of moving past outdated prohibitionist policies. Most of the statewide reforms start at the local level, helped along by hard-working activists that have dedicated their lives to ending an unnecessary and harmful war being waged against the nonviolent cannabis community. Pittsburgh NORML is doing great work in the Steel City, effectively leading the effort to decriminalize personal amounts of marijuana within the city.
Changes at the city level immediately benefit not just the local cannabis community, but also all residents as it saves taxpayer dollars and better prioritize law enforcement resources. I got the opportunity to catch up with Pittsburgh NORML's Theresa and Patrick Nightingale over Facebook and ask them about their efforts in accomplishing this important goal and what is next for statewide reforms in Pennsylvania.
Theresa, what are your initial thoughts on the importance of Pittsburgh's decriminalization measure?

Adults in Pittsburgh will no longer have to worry about a small amount marijuana charge on their public records. These charges can destroy job and housing opportunities and follow people into the courtroom during custody disputes and divorce proceedings. It is also important to mention that because our Republican House continues to stall our medical marijuana bill that this ordinance will provide protection to medical patients until the time comes when a comprehensive medical marijuana bill can be passed.

Patrick, how did Pittsburgh NORML effectively lobby for this important reform?

In 2012 a neighborhood community development corporation, Bloomfield Garfield Corp., adopted a resolution to call for legalization of cannabis because too many of its constituents were unemployable and being denied public housing because of minor marijuana convictions. The director, an old friend, reached out to me but there just seemed nothing we could do on a local level. In 2014, Philly NORML worked with City Council, the police and the DA to pass their ordinance decriminalizing "small amounts." Seeing their success and not seeing any legal challenges I decided to approach Bloomfield Garfield Corp to explore the possibility of a decrim ordinance.

Patrick, what's next for Pittsburgh NORML and other Pennsylvania cannabis law reform advocates?

We are very hopeful that we may be able to move forward with some type of decriminalization effort on the statewide level. We have some very socially conservative politicians in key leadership positions that have effectively stymied our medicinal marijuana bill. If we get a MMJ bill passed it will be a very limited piece of legislation unfortunately. But with the state's two largest population centers having embraced reform it may help spur Harrisburg to action.
Patrick is a criminal defense attorney, putting his political beliefs above and beyond his financial interest (which is a common thread among many NORML-affiliated attorneys, including two of my mentors, Dan Viets in Missouri and Leland Berger in Oregon). Theresa works in the law office as a paralegal and I would encourage the Pittsburgh cannabis community to support their law firm and Pittsburgh NORML. It is very challenging juggling activism with work and family life, and and this power couple is accomplishing a lot, despite the obstacles. I wish the Nightingales and all of the Pennsylvania cannabis activists the best of luck and look forward to covering their future success stories.