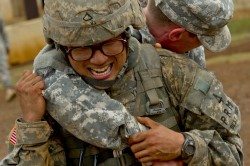 Military vets (and their families) sacrifice so much for our country. While we may not support every military action that our nation engages in, we must remember that service members don't choose their battles, they are sent to war by civilian politicians. Our soldiers have to face the horrors of war, terrible events that would cause any sane person post-traumatic stress.
Miami Herald Columnist Leonard Pitts, Jr., reported on the plight of Private First Class Jared Hunter, as he battled PTSD, and found relief from medical marijuana:
Marijuana had saved him. Then, last year, police came to his door. He still has no idea who tipped them off. They arrested him and confiscated marijuana plants he says he was growing for his own use. Hunter found himself facing five years in prison. Prosecutors offered a deal: Plead guilty and accept probation. He refused. He didn't want to be branded a criminal and stripped of his civil rights.

But last week, he accepted a new offer. It requires him to pay court costs and costs of prosecution, amounting to less than $1,000. His record will show not a conviction, but a withhold of adjudication — essentially, a judicial get-out-of-jail-free card that leaves his civil rights intact.

One is glad Hunter's legal travails have come to such a favorable end. But who's to say the next person in his position will be as fortunate? More to the point, we should be appalled this sort of thing is even possible, that a veteran can be threatened with prison because he used the only effective treatment for a wound incurred in the service of his country.
A United States military veteran commits suicide
every 65 minutes
. Let's not just thank our veterans.This is a national outrage that needs to stop. Medical cannabis has helped many people overcome post-traumatic stress, whether from the battlefield or from other traumatic events.
We must hold our politicians accountable
and ensure that our veterans have every opportunity to heal from all of the wounds of war.